Although the information is readily available today, many people still think that intimate relationships today and the Middle Ages are as different as day and night. You will be surprised to learn that people have always been very interested in sex, and in the Middle Ages it was as popular as it is now.
Of course, people's attitudes towards sex and relationships have changed a lot during this time, but there are things that have remained very similar. Over time, the basic principle of how people understand sex has remained the same – we have always looked for ways to discover new bodily pleasures. Let's look at what modern sex has in common and what is different from sex in the Middle Ages.
1. SEX AMONG WOMEN IN THE MIDDLE AGES
Often, when two women had sex, it was not considered sex at all. Although the information found in ancient sources on this issue is incomplete, there is still evidence that this behavior was not described as sexual. The main reason was that in the Middle Ages, penetration of the penis into the vagina was considered sex.
Thus, two women, according to medieval people, had sex only when a dildo was involved in their intimate games. Other forms of female sexual intercourse were often considered absurd, ridiculous, or even sinful. It is worth mentioning that women were never punished for such actions.
Men, on the other hand, had no right to indulge in the joys of mutual love because it was illegal. The main reason for this was a strict law according to which the only suitable and acceptable site of semen eruption was the vagina.
2. FEMALE ORGASM – GOLD IS VALUED
In the Middle Ages, women appreciated orgasm and always strived for it. Of course, at that time the only purpose of sex was reproduction. The prevailing norm and rules stated that the only way to successfully conceive a child was to have both male and female orgasms, so the man was obliged to help the woman achieve it every time she made love.
While it sounds beautiful, there was also a less bright side to sex in the Middle Ages. Sex in the Middle Ages was quite boring – the only acceptable posture was missionary , both partners were dressed in underwear and their upper body was wearing clothes, and kissing was not acceptable. Not to mention foreplay or any other intimate activity, except, of course, orgasm.
3. PENALTIES FOR ADULTERY
Sex in the Middle Ages has been associated with things we wouldn't even think of today. In the Middle Ages, people could be accused of adultery, even if there was no direct contact with another person. For example, in the Eastern Roman Empire, women were found guilty of adultery, even if they spent the night outside their parents' or husband's home. In southern Europe, it was enough for a woman to attend a public event or festival, and that was already a complete sign of disbelief.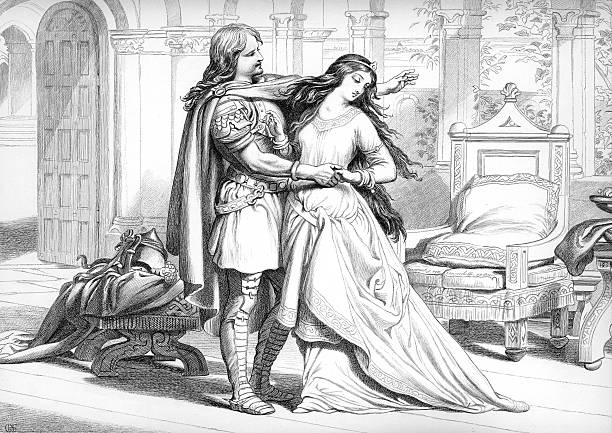 Men, meanwhile, did not have such strict rules, but if a man were found to be unfaithful, he would face severe punishment. Marriage at the time was a contract under which a woman became the property of a man. For this reason, adultery was equated with the theft of another man's property, which is already a serious crime.
4. IN THE MIDDLE AGES, PRE-MARRIAGE SEX TURNED A BLIND EYE
Although adultery was not allowed at all, people were so thirsty for intimate relationships that they sometimes did not pay attention to sex before marriage. In the lower strata of society, women's innocence was not valued as highly as among the rich. Only among the aristocrats was the rule that a woman must be innocent if she wanted to marry. This was the reason why intimate encounters and teen sex flourished among working class people.
Sex in the Middle Ages among unmarried people was illegal, but widespread and justified in almost all cases. On the other hand, only women received fines. The desires of both lower and upper class men were more tolerated, and it is no secret that they had concubines.
5. SEX CULTS AND ORGIES IN CEMETERIES
Orgies, which, strange as it may sound, took place in cemeteries, were most common in some parts of Europe. The people who took part in them considered adultery to be equivalent to sex in marriage, but only on one condition – if the sexual intercourse did not end in pregnancy.
In some cases, all social norms were violated during orgies. Even the great plague that shocked humanity, which claimed 60% of the lives of all Europeans, did not prevent people from participating in orgies. To despise the plague, the men and women who survived it still took part in mass orgies, and, ironically, they were held in cemeteries. Seeing this, church representatives excluded members of the orgy from the church.