Proximity is one of the basic needs of human physical and emotional well-being. Due to the complexities of modern society, such as long-distance relationships or different lifestyle choices, we are often forced to meet our needs for touch and intimacy by artificial means. Here comes the use of different sex technologies.
However, in a world where technology is constantly evolving to be more human-centered, artificial sexual stimulation and accessories still lag far behind.
This difference between the emotional needs for sex and the solutions available leads us to the topic of this article, which will look at existing technologies for improving people's sexual experiences.
Although human bodies are very different from each other, as is sexual desire, many stimulating toys and accessories are mechanical in nature with rather limited functions. In addition, they are only suitable for certain parts of the body and certain senses.
Sex involves our whole body, all our senses and emotional involvement.
There are many options that are not used in current sex technologies, from soft caresses to hair pulling. Artificial intelligence can be used to make erotic technologies more personal. By understanding people's sexual desires, human-computer sexual interaction can be made "smart" and adapted to human needs.
SEX TECHNOLOGY
Sex technologies and activities are designed to enhance, innovate, and develop human sexuality and experience. Sex technologies can be everything – from sex toys to sex surveillance equipment, virtual reality pornography, and sex robots.
When it comes to human-computer interaction, sex technologies are rarely mentioned. According to research, the global sexual well-being market (which includes everything from condoms and lingerie to sex toys) is expected to reach $ 40 billion by 2025. This provides a good reason to discuss sex technologies and show how the principles of human-computer interaction can be used wisely in this area.
Let's look at some existing technologies and some that are being researched.
There are many technologies available to enhance sexual pleasure; exercises related to performance improvement, monitoring, and playing games. Let's divide them into the following categories:
Remote proximity
It has happened that we live in a very profitable era, where video calls cost almost nothing and audio calls and text messages reduce the problem of the most common forms of communication. To express romantic feelings, the best way to express yourself is through words and with visual materials.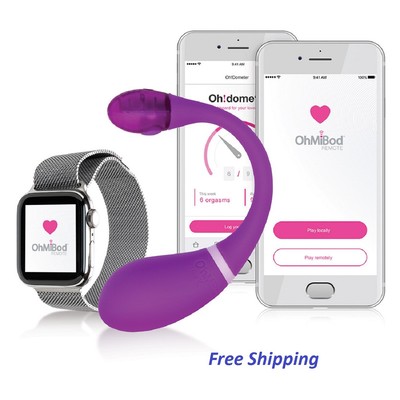 But romantic relationships also involve other important senses, such as touch, smell, and taste, which are often lacking in relationships that have a long physical distance between them. To solve some of these problems, 'teledildonics' is helping. The company Kiiroo made male and female genital wearable accessories that through the Internet are connected to mobile devices. The partner can run it from anywhere in the world. Company Vibease producing like vibrators for both men and women.
Intimacy is not limited to genitals, and some technology companies are trying to solve this problem by creating prototypes of real-time Internet kiss interfaces for mobile devices.
In turn, to reduce the longing for your partner, ' Pillowtalk' provides a unique solution. Real-time heartbeats are collected and sent to your partner's pillow wherever he is. ' The Teslasuit, on the other hand, is a full-body haptic that provides a virtual embrace through a special pull-back suit.
Another experiment, 'Durex Fundawear', allows partners to control touches from a long distance using an app connected to underwear.
Virtual fantasy
Sexual dynamics in relationships are mostly controlled by social and cultural norms. It is difficult to find a safe place to realize your sexual fantasies and fulfill your desires. Thanks to technologies such as 3D modeling and advanced game engines such as 'Unreal' and 'Unity', virtual fantasy allows you to explore sexual fantasies in a safe and acceptable environment.
By pairing with Oculus and headphones, users can watch virtual reality sex movies. The installations of the New York Sex Museum, for example, give couples a special intimate experience through virtual reality. There are adult virtual worlds where you can create special customizable sexual environments and bodies, such as '3Dxchat' and 'Redlightcenter.com'.
As with other themed games, you can create an avatar (a similar image to yourself) and participate in various sexual activities and parties. These companies have also begun to integrate remote toys to make a variety of touches. Other VR games related to the topic of sex include virtual sex with other people, often providing all kinds of sexual choices and tastes. An example is 'Chathouse3D', which has no avatar restrictions – it includes all genders and sexual desires.
Some games have their own specialized characters, such as 'VR Kanojo'. It uses HTC wire and controller to interact with the Japanese girl. Some games have a storyline, such as 'PinkMotel VR', and others are open to an experience that the user wants to design, such as 'HoneySelect VR'. To add more dimension to virtual sex and make the experience more exciting, 'SinVR' includes science fiction, horror scenes, prison, vampires, and more.
Robotic lovers
Over time, Hollywood has portrayed what humanoids might look like. It was a long time ago, in 1973, that the idea was played out in the film 'Westworld'. Later in the films 'Blade Runner' (1982) and 'Ex Machina' (2014). The concept and execution have evolved into a variation of a robot that is extremely similar to humans, both in voice and appearance, but its consciousness is replaced by artificial intelligence.
This also seems to be the main goal of sex doll developers. Sex doll manufacturers have been working on it for many years, but only a few variations of these toys are available on the market. Sex dolls are mostly marketed as favorites to talk to and touch to replace the needs of a real human partner. Their production is a very complex process, so many prototypes are still under development. Most dolls are not fully 'mature', but they try to achieve human-like communication with voice and eye movements and some facial expressions. They also have an anatomically correct skeletal structure, and some even have a circulatory system such as Roxxxy.
Among those currently available, the Harmony sex robot can have long conversations, 'get' orgasms and have adjustable eyes and skin color. Another doll that is similar to the one above is Samantha. It can interact with the owner and have a conversation. Most of the sex robots available are women and have the appearance of porn stars. The first male doll has a bionic penis created by RealDoll and is called Harry.
The appearance of sex dolls created a large number of people who wanted to use them in brothels in Austria, Canada, Finland, Germany, and France. Users pay a certain amount per hour to engage in sexual processes with them.
Sex toys
Touching yourself for pleasure is one of the most common sexual experiences. People masturbate with their hands or tools designed to increase stimulation.
Enjoyment tools
Many vibrating devices are available to enhance your enjoyment. Many modern sex toys are connected to the remote control via Bluetooth and provide hands-free mode. The most popular examples are 'Happyplaytime' (a game for female masturbation), 'LoveCrave' (sex toys for women), and 'OhMiBod' (vibrators, which also have an app that monitors the frequency of orgasms). 'Lovense' is a prostate massage tool for men.
Exercise tools
OhMiBod Lovelife Krush, a keg exercise machine, improves sexual health with elements of the game. Nuelle Fiera, in turn, increases blood flow to the clitoris. In contrast, 'SexFit', a device with Bluetooth and Wi-Fi, helps men achieve and maintain an erection and monitors their sexual performance with a function similar to a pedometer (pedometer). 'KGoalBoost' is a device for men to improve the pelvic floor muscles.
Changing the human body
Cosmetic surgery is advanced enough that we can change the part of the body that we do not like to the desired shape, color or texture. It has progressed so far that it is possible to perform breast implants or vaginal narrowing, which undoubtedly satisfies women's sexual pleasure. Genital modulation is associated with increased self-confidence and satisfaction with sex life. For a similar reason, men undergo penis enlargement and other genital surgeries.
Sex education using technology
Because much of our information comes from the use of technology, sex education is not lagging behind. There are a large number of sex technology apps like ' Amaze ' that create videos and educate people through social media channels like Instagram, Facebook, and so on. Apps related to colleges and schools, such as Reach Out Editions, are designed to prevent hooliganism and sexual abuse.
An interesting way of teaching sex education is real-life conversations, which are carried out by 'Real Talk'. With privacy in mind, Roo is an AI chat robot for sexual health issues. Using state-of-the-art technologies such as virtual reality, Motherload promotes talking about sex education, focusing on the inclusion of the LGBTQ community.
Analysis of sexual activities
Sexual activity is a good determinant of our emotional and physical well-being. Technologies such as wearable genital devices or fitness tracking devices such as 'FitBit' are available to monitor and analyze these activities. There are other apps that help record your sexual activity and related information, such as partners and protections. Some of these apps are: 'Nice Sex Tracker', 'My Sex Log', 'iBoogie', and 'Sex Keeper'.