When it comes to group sex, threesomes usually get all the glory, but why not add a fourth? Yes, we're talking about foursome, a two-way configuration traditionally reserved for porn, but increasingly common in the bedrooms of 'ordinary mortals'. The beauty of a foursome is that it leaves a little more room for creativity and opportunities for mutual pleasure than a threesome, but is more intimate than a full-on orgy. With double limbs (and genitals), foursome can be both exciting and terrifying at the same time. Fortunately, there are certain positions specifically designed for the Magic Four.
We know what you're thinking. How exactly does the creation of a quad work? There are many different approaches. If you're in a relationship, you can look for another pair of swingers who are just as eager to experiment. It can also be two single people who want to join. (How to find these people? Very simple – that's what our dating site is for). And of course, sometimes the foursome is four strangers—like people who meet at a sex party.
However you build your quartet, experts agree that foursomes require communication and careful thought to ensure a comfortable, safe and positive experience for all involved. We recommend an open discussion in advance about fantasies and boundaries, as well as about what causes concern.
Maybe one likes receiving oral pleasure but hates giving it? Does one couple feel comfortable touching and kissing other people involved, but don't want to have sex with someone outside of their relationship? Is anal sex taboo for anyone involved? How do each of you feel about using lube or sex toys? These are the things you'll want to deal with before you start stripping. Also, implement a afe-word that anyone can use if they need to take a break.
If your sexual philosophy is "the more the merrier," explore these positions that will make your next foursome unforgettable.
1.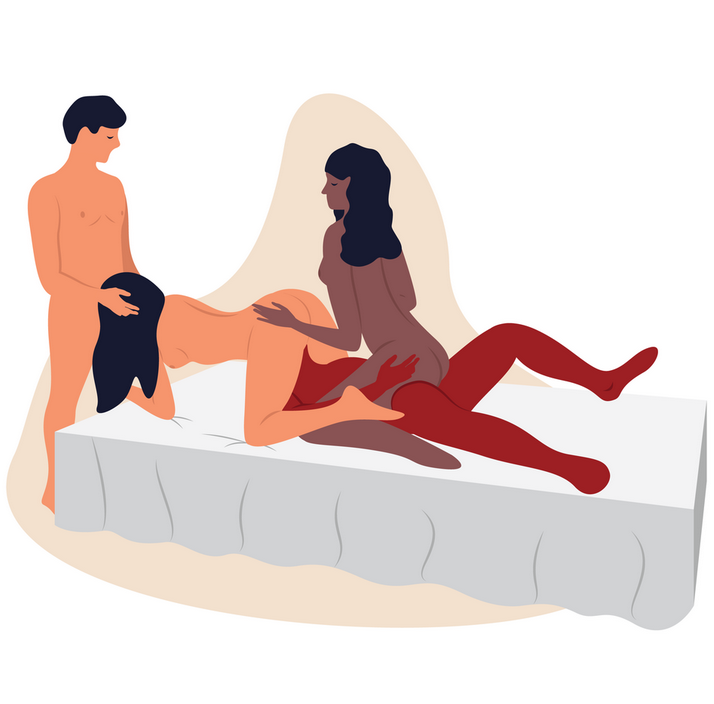 This position is great for everyone to work at the same time—and doesn't require special acrobatics.
How to try it: Person 1 lies on their back and Person 2 sits on top of them in a cowgirl position. Person 3 gets on all fours over Person 1 to receive oral pleasure. Meanwhile, the 4th person is standing in front of the 3rd person, who is giving them oral sex.
2.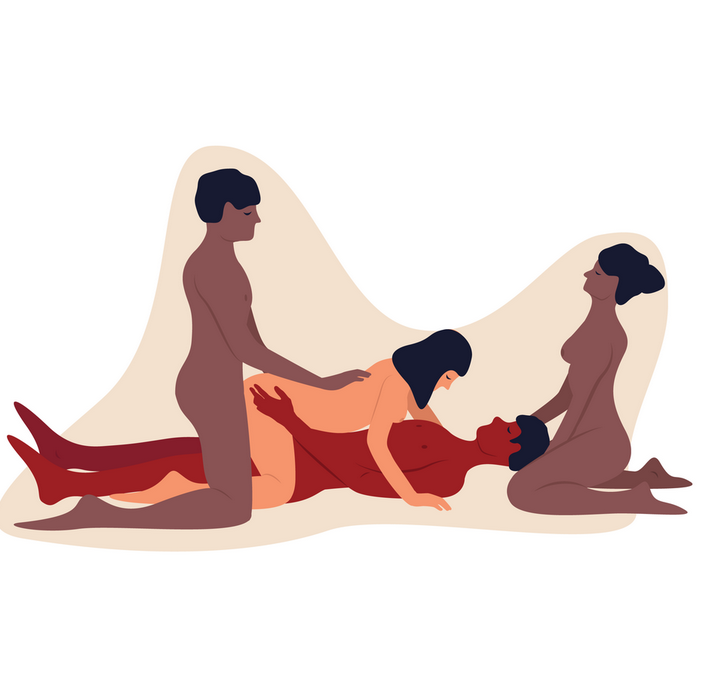 This one involves double penetration, so make sure at least one of your foursome wants it.
How to try it: Person 1 lies on their back while Person 2 sits on top of them while receiving vaginal sex. Person 3 has anal sex with Person 2. 4th person can sit nearby and masturbate while enjoying the show. At some point, the partners can switch so that a 4th person can get in on the action.
3.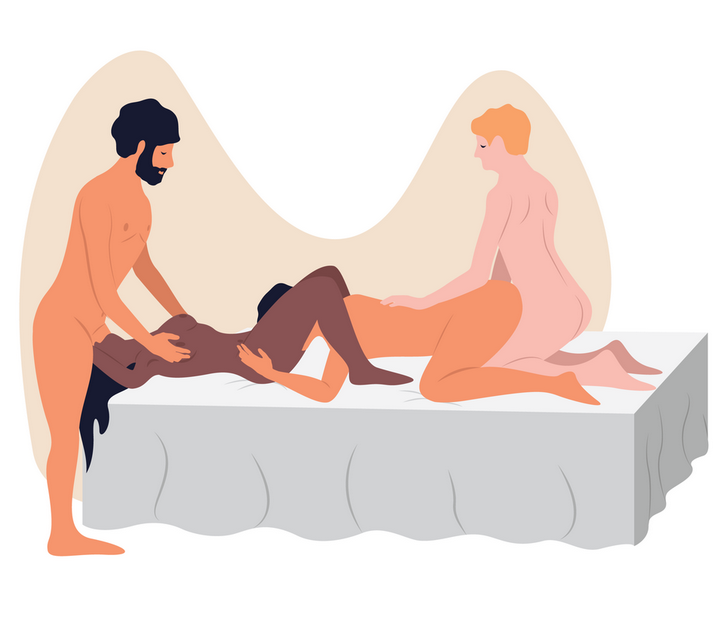 This position is ideal because everyone gets pleasure at the same time and can keep working with hands and mouth to make the process more interesting. Plus, doggy style is perfect for deep penetration and G-spot stimulation.
How to try it: Person 1 lies on the bed with their head hanging over the edge. Person 2 stands at the edge of the bed while Person 1 uses their hands and mouth to pleasure them orally. Person 2 can lean forward to play with Person 1's nipples. Meanwhile, 3 kneels over 1st at the other end of the bed, giving them oral pleasure. The fourth stands behind the third, entering them doggy style.
4.
A position in which four partners give and receive pleasure at the same time is difficult, but not impossible. Why not make the climax a fun game? The first to orgasm has to pay for dinner or clean up after sex!
How to try it: All four people sit in a tight circle. Each person smears their hands with lubricant and touches, caresses, massages the genitals of the person sitting on the left. Feel free to integrate vibrators and other toys and indulge in passionate kisses with the person to your left and right.
5.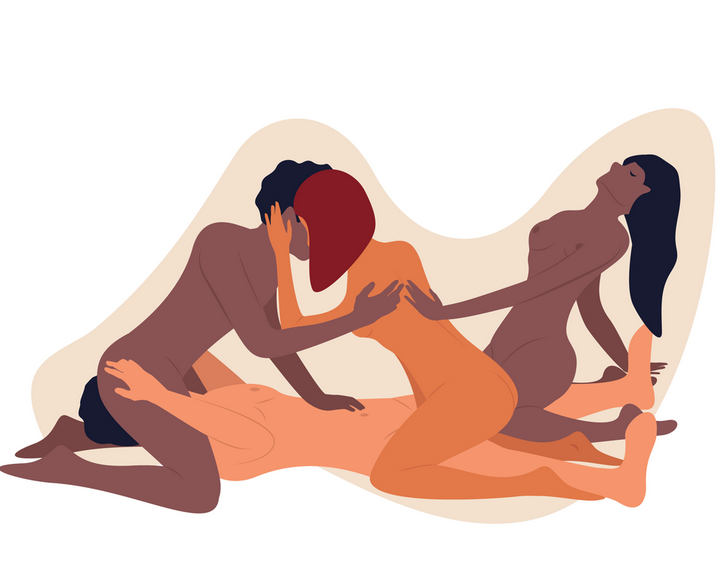 What makes this position special is that the 2nd, 3rd and 4th person can kiss and caress each other and they all have access to the 1st person's genitals.
How to try it: Person 1 lies on their back. Person 2 then kneels over their face so Person 1 can use their hands or mouth to pleasure them. The 3rd and 4th person sit at the 1st persons feet and "grind" their leg.
6.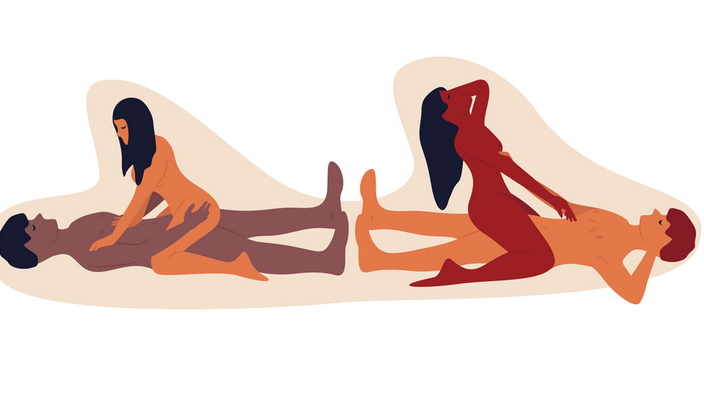 This position allows for a lot of intimacy and eye contact between partners, as well as the opportunity to create multiple points of contact and stimulation.
How to try it: Person 1 and 2 lie on their backs, feet against each other, legs spread wide, forming a diamond shape. Person 3 and 4 are in between them, back to back, each working around their partner. Persons 3 and 4 can turn to each other for a passionate kiss at any time.
7.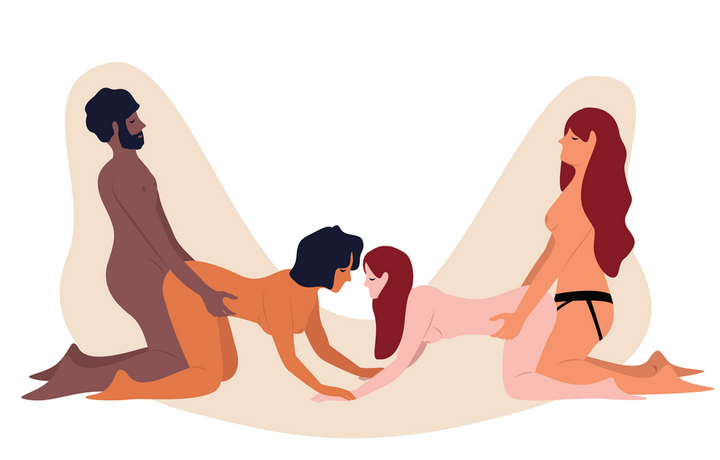 The only downside to the doggy style position is that you miss out on sexy eye contact. This foursome sex position combines both this popular position and the intimacy that can be achieved by looking into your partner's eyes.
How to try it: 1st and 2nd person kneel one to the other. They can hold hands, or if that is too difficult, they can rest their hands on the bed. 3rd and 4th person enters them from behind.
8.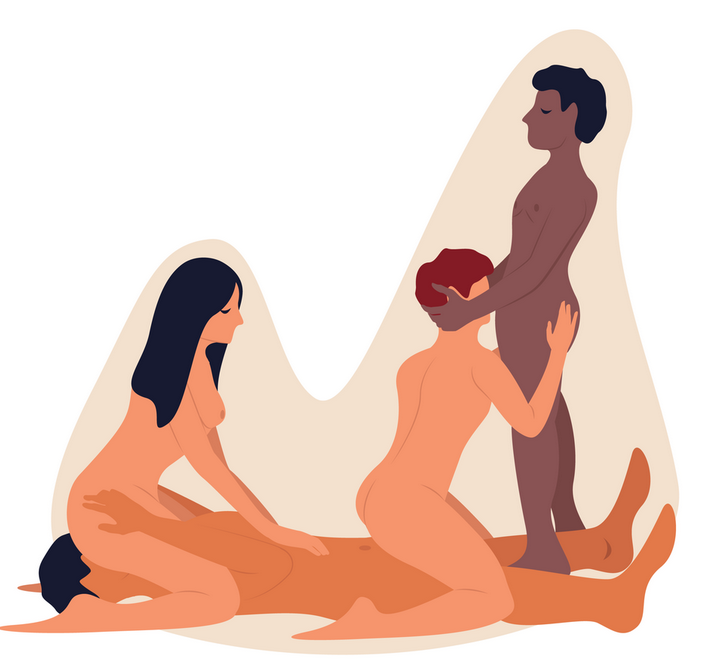 This position offers many opportunities for stimulation and visual pleasure. Use pillows to adjust participant heights for optimal comfort, and experiment with different penetration angles and depths to find the perfect combination.
How to try it: Person 1 lies on their back while Person 2 lies in a reverse cowgirl position on top of Person 1 and receives vaginal or anal pleasure. Person 3 is on top of Person 1's face to receive oral sex. Person 4 can stand in front of Person 3 or Person 2 to receive oral stimulation.
9.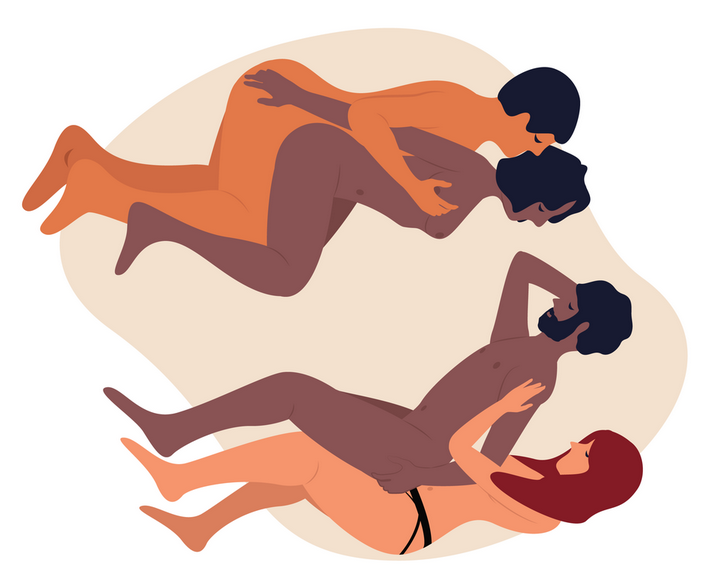 This sexy position is very versatile and can be adjusted according to individual preferences.
How to try it: 1st and 2nd person lie on their sides facing each other, and 3rd and 4th person lie behind their backs in spooning position. While persons 3 and 4 penetrate persons 1 and 2 from behind, persons 1 and 2 may kiss and use their hands to explore each other's bodies.
10.
This is one of the most popular foursome sex positions for a very good reason: it allows each person to give and receive some stimulation at the same time.
How to try it: Person 1 lies on their back. Person 2 is on Person 1's face, and Person 3 is sitting on them in an inverted cowgirl position. Person 4 kneels between Person 1's legs – from there they can play with Person 3 however they like.
11.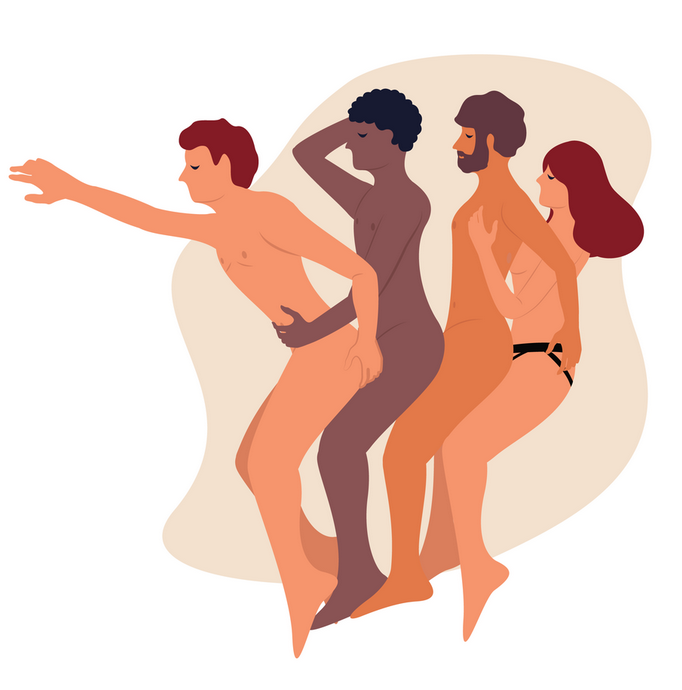 This position, which is full of penetration, offers an amazing view for almost everyone involved. We recommend changing roles at some point, so that the person in front has the opportunity to be the giver, and the person behind has the opportunity to receive.
How to try it: All four partners kneel in front of each other to penetrate each other from behind. From here, they can take turns caressing and kissing the person, both in front and behind.