So what does it really mean to attend swingers parties? Does it benefit the relationship? What are the risks of swinging? Reddit swinger readers share their swinging experience. (See also: Swingers clubs – strict rules and clear boundaries).
***
"I love to have sex with my husband and watch him make love to others. I adore listening his orgasms. In fact, we had a pretty good sex life before we started having group sex, but now it has reached a whole different level. I am very happy to be with him on this trip. I watch with excitement as we grow, change, discover new things, fall in love with each other over and over again. Just thinking about how make love, or remembering how he does it to others, makes me excited. The smell of his skin, his taste excites me. I think the swinging experience makes me want him even more. "
***
"My husband and I had a monogamous relationship for 15 years. I love my husband very much, but at the time I felt isolated as stuck in the corner. I liked to imagine other people craving me, and when I was 40, all those feelings became even stronger. So instead of cheating on my beloved husband, I decided to talk to him. Despite my fantasies, he was (and is) my dearest and most wonderful man.
Hearing that I was planing to have sex with other people, it was natural that he was confused. But I wanted to feel lust so much, and I wanted to flirt with others. I wanted to forget that I am a wife, a mother, a housewife.
Since my husband was not particularly interested in this idea, we initially decided to include another woman instead of a man. It was hard for my husband to accept that I could be aroused by another man. Since I had discovered bisexuality in myself a long time ago, I immediately agreed.
That's how we started attending swing parties – on the condition that I only have sex with women. We found a couple with swinging experience online. Because access to this closed community is not so easy, we had to receive an invitation from them.
Everything happened in an extremely luxurious apartment in the city center. With toned windows, good music… Upon entering we saw a lot of half-naked and completely naked people who felt so free in their bodies! It immediately affected me (which I wouldn't say about my husband). We grabbed one cocktail, then another, a third.
Then the couple came to us, with whom we had talked online. We had a nice chat. A woman who, by the way, was extremely sexy mentioned that she would like to kiss me. We started kissing. It was nice, passionate, and I felt an unexpected excitement. She took off my clothes and caress my body. We stood naked in front of our men and enjoyed each other.
After a while, I noticed that my husband was starting to loosen his pants. I never expected him to do it. He undressed, just came to me from behind and we started making love. My husband was so excited to see me kissing another woman that neither other people nor the environment prevented him from wanting me. I kissed an unbelievably sexy woman and at the same time I had sex with my husband! That was so good! I will remember this first swinging experience forever. "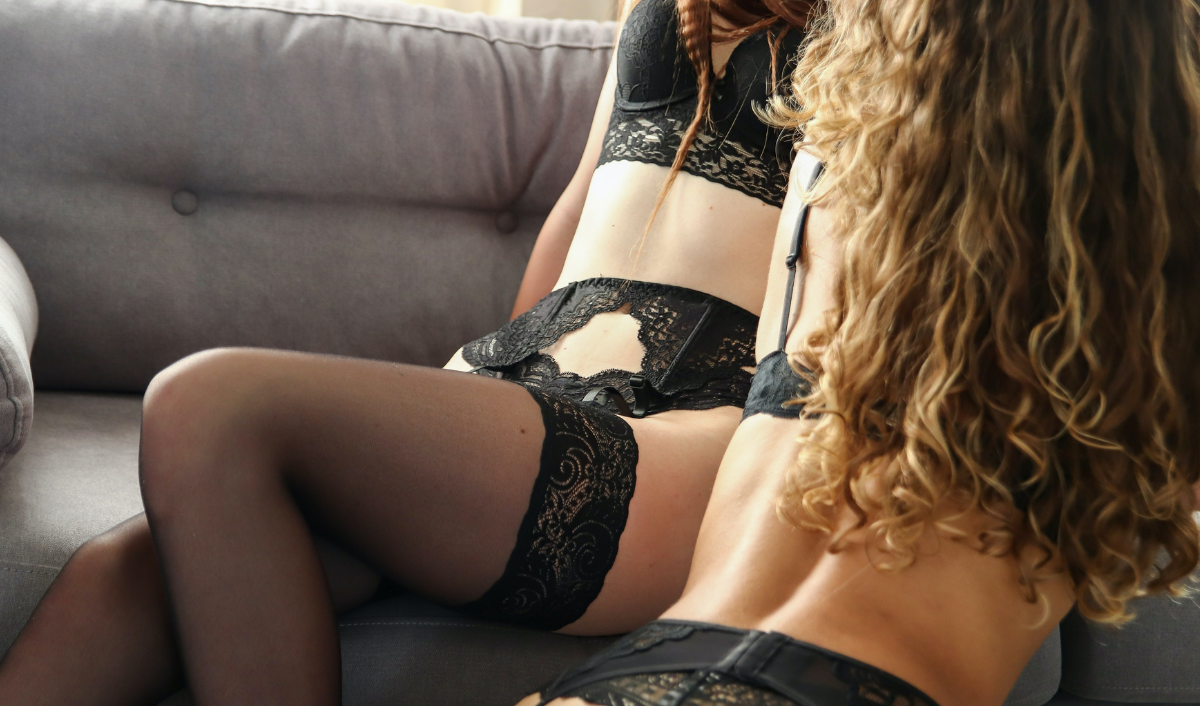 ***
"My husband and I have been having group sex for a long time, but there is one time I will remember all my life. Our friend (an experienced swinger) celebrated his birthday and rented a party bus. Well, you know, that thing with bright lights, leather chairs, a bar and a stripping pole. The plan was to stop at his favorite bars and have a cocktail in each one. A total of 10-12 couples took part in the trip.
When we returned from the third bar, the real party started on the bus! The girls began to dance at the pole. At the flashing lights, their bodies looked extremely sexy. Women were not ashamed to dance seductively (including me), to get naked, to flirt with men, to touch their bodies or to sit on their lap.
At one point, the bus unexpectedly stopped, and the boys, our rescuers, hurried to catch the falling naked girls. Eventually, the guys undressed and everything turned into a wonderful orgy. I've never had so many fun moments in one night. And even now, when someone mentions a bus, thoughts immediately turn to that crazy birthday. "
***
"My boyfriend and I occasionally take part in polygamy activities (group sex, threesomes, sex parties). But, yes, our experience has been a real minefield. It took quite a while for us to find reliable, balanced and safe people to have fun with.
As beginners, we saw all the crazy shit, all the drama and tears. Jealousy? Tons of it! It is extremely difficult to find nice, attractive people who are not fucked up. Once you have more than one partner, it's like an explosion of mental problems and bad relationships that are one step away from disaster! I don't recommend a polygamous relationship unless you're determined to weed out the bad ones to find the real gems."