Dating sites and apps (like Tinder) are very popular these days – we try to find the greatest love of our lives without much effort and without even leaving the house. Of course, this is not the only way to find a person you would like to go to a date with. But who knows if this date will even work out? Several people agreed to share their experiences of how their worst date turned out after finding someone online.
Julia, 34
It was a warm summer, so my date and I were just walking around town. We took a bottle of alcohol with us. Everything was even pretty cute and fun, only I was a little cold. He threw his jacket on my shoulders and we went through the park. We were already pretty drunk and I found it hard to think. I wanted to go to the bathroom. My date politely waited for me sitting on the bench. I did the thing and… completely forgot about him!
The next morning I woke up in my bed. I had an abnormal headache. Yesterday's memories slowly began to weave. I remembered talking to a man… And suddenly I saw his jacket in the hallway! I have never been so ashamed. I ran away from the guy and stole his jacket! What did he thought of me? At least there were no keys or documents in his pockets. Only a few coins…
Amanda, 24
Once I had the opportunity to go on a date with a guy who didn't have a photo on his profile. Of course, the reality was different from the bright expectations. I had never been in a situation like this before, so I decided not to leave right away. I had to mention a few times during the conversation that I have a brother. At one point, he decided to leave an impression on me and began to tell fortune in my hand. As a result, with an extremely clever and serious look, he said, "So I can clearly see that you are not the only child in your family." At first I thought he's kidding, but he wasn't…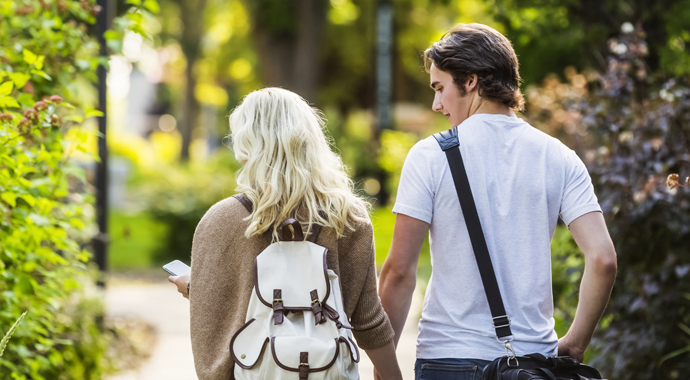 Aleksandra, 25
I like mysterious guys, but such guys tend to be mentally unstable. I met one such on dating app. In the photo, the guy was handsome: long black hair, sunglasses, handsome. We met and the appearance met my expectations, but his behavior was awful – instead of saying 'hello', he gave me a glassy look. When I said he was being weird, the guy was really surprised.
In the end we went for a walk in the park. Throughout the meeting, he told me various conspiracy theories and from time to time tried awkwardly hug me or touch my hand. I felt extremely uncomfortable and secretly wrote a message to my friend asking for help. She called me, and we imitated the scene from the movies: "Oh no! My friend has an emergency, I have to go and help! "
The guy escorted me to the transport. And suddenly he started talking about patriarchal values: he explained to me that all women only provoke men (I, too, because I came to meet him in a long skirt), divorce should be forbidden, and beating a woman is not such a bad thing. The conversation ended with raised voices as I jumped into the train.
In the evening I received a message: "When will we meet again?" I politely refused, to which I received an answer: "Yes, of course, it's because I don't have a car, but arrived by bus and took you to the park, not to the restaurant" Yes, that was the main reason.
Michael, 30
I met a girl on a dating site and took her to my favorite museum. My chosen one was six years younger than me. Why museum? I love art and hoped to be original, because dates at that age is usually spent in cafes or bars. The museum exhibited paintings by the artist Nikolai Ge. When the girl heard this, she asked, "What? Just Ge? " and began to laugh. In full voice. So loud that the whole museum sounded. Then I realized she was still a child and I didn't have time to wait for her to grow up. I bought her ice cream and said goodbye.
Irena, 27
This date was not specifically planned. I hadn't used the dating app in a long time, but there was one on my phone. One day the new message came: "Let's meet now?" My mood at the time was quite sad, and hoping for a better mood, I agreed.
We met in a cafe and had a good time, although, to be honest, I immediately felt that something was wrong. But basically there was nothing to complain about, so I agreed to a second date. This time he took me to the cinema, bought me popcorn and a latte. And then he drove me through the night city. Everything was polite and nice, but I just felt that there was no spark. When I got home, I wrote him a letter in which I honestly admitted that I no longer wanted to meet. To whom I received the message: "You can't do that! Whoever pays for you is dancing with you! " and whole pile of insults. In shock, I sent him money for a movie ticket and popcorn and blocked him.