Many women would agree that their biggest secrets are known only to their closest friends. They give advice, listen and support better than anyone. But I can't reveal this secret to my best friend. Mostly because it's about me and my friend's boyfriend.
In fact, I am so ashamed that I cannot tell anyone about it. But if I keep it to myself, I will lose my mind. So I have no choice but to write this anonymous letter – maybe I'll make some relief after putting the words on paper.
Our relationships have always been just friendly, but…
She has been my best friend for over a decade. We finished school together, lived next door and are now in the same faculty. Everyone who knows us treats us as an indivisible union: we learn, have fun and even travel together. At least it was until this guy appeared…
Both I and my friend have loved guys attention since school. We went to have fun, dressed up and tried to have as much attention as possible. However, this was followed only by short-term friendships that did not grow into greater feelings. But a year ago, my friend met this guy she really fell in love with. I saw it in her eyes, in her smile, in the way she talks.
My friend is very dear to me, so I rejoice in her happiness. I always encouraged her boyfriend to spend time with us, and I wanted to have a friendly relationship with him myself – especially because she was happy about it. And I'm not lying, saying we did well: we all went to the movies, long walk, for lunch and other entertainment.
She becomes almost as the third wheel
Over time, I began to have strange feelings. It seemed that I had much more in common with my friend's boyfriend: we liked to spend our free time similarly, were interested in the same movies, music, and our values ​​matched. I noticed that when all of us met, I was talking to him a lot more than she was. I also felt his subtle flirtation, eye sight, smile. But I didn't think about it too much: I said to myself that I was just imagining, and all these thoughts are nonsense.
Turns out I was wrong. Most recently, our mutual friends had a big party. It was both me and my friend and her boyfriend. As the party got louder, I noticed that they were both arguing. Since I don't like to get involved in conflicts, I waited until they stop talking and rushed to comfort my friend and sweep away her tears.
At the time, it seemed that the argument was his fault and, presumably, excessive drinking. She went to bed early and I continued to party. At one point I started talking to my friend's boyfriend. He described the whole situation from his point of view. I will not talk about their disagreement, but will tell you one thing – his behavior confused me. The guy said he hadn't felt happy in a long time, but didn't know how to take a step towards a breakup. We talked for a long time, discussing many topics that unite us. It was infinitely good and interesting. I have never felt so in tune with anyone else. And now that I'm writing about it, it seems to me that I'm romanticizing this moment too much.
The best and worst kiss of my life
We sat there for about two hours but it felt like just a moment. At dawn I felt that he was looking at me deeper and deeper. He kept moving closer and closer to me until we accidentally touched our hands. He leaned closer to me, sighed and kissed me. I swear, I wasn't the initiator of this kiss, but I felt so guilty… After all, I talked to him all night, I responded to his flirt, I smiled just as much, and when he kissed me, I didn't reject him and didn't drive him away. So I really blame myself.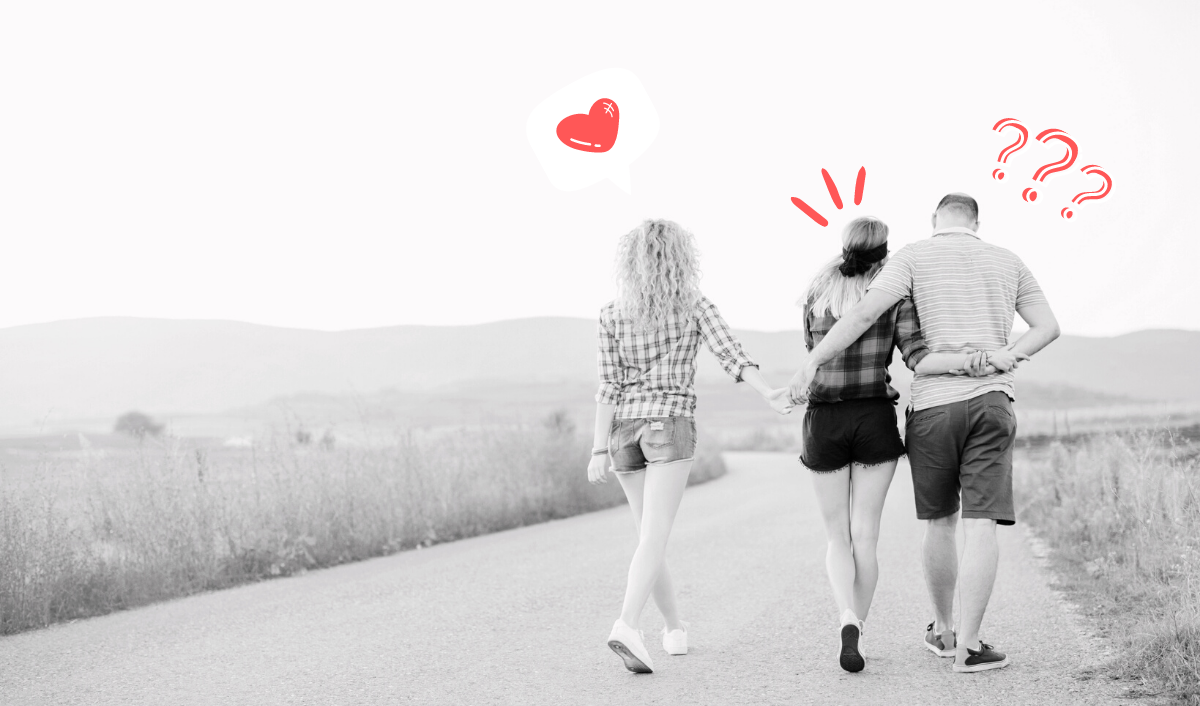 I will not lie, it was the best kiss of my life. I wanted nothing more than to stay in this moment as long as possible. But at the same time, I was afraid someone might see us. Although maybe that's exactly what added passion and adrenaline? I do not even know. Then we went into a small locked room and had sex. Everything was incredibly magical. And now I'm scared.
My friend has been with through joys and sorrows. We have experienced various difficulties, joys, graduations, the beginning of new stages. All of it. And I acted so pathetic, so unforgiving.
I know I should tell her the whole truth. But what can I tell her? I can't say I don't like her boyfriend. I feel like I'm in love with him. But can I lose my best friend because of him? Is he really worth such a sacrifice? Maybe I've already lost everything? I can't find a solution or an answer – maybe I'll find advice here?
Solution: Be aware of your feelings and only then talk to your friend
Relationship expert, bestseller author, licensed family and relationship therapist Anita A. Chlipala shares four step solution on what to do if you have romantic feelings for your friend's boyfriend.
1. Tell your story to someone else first: a friend, family member or psychotherapist. The truth is, that keeping that secret to you is not a very good idea. Secrecy often fuels passion, so the longer you hide everything, the deeper you can sink into this swamp of mistrust. Secondly, don't romanticize or fantasize about it all. Talk about facts and feelings. But don't let your fantasies take over.
2. Try to keep your distance. To understand your feelings, you have to stay away from your friend's boyfriend for a while. If that doesn't work and let's say you're at a party together, try to keep at least a physical distance. It must be practiced until the initial passion and admiration is somewhat suppressed.
3. If, after distancing yourself and talking to other people, you understand that your feelings for this guy are not diminishing, it can be a serious signal that you really like him. It is important to understand this before talking to your friend. It is important to correctly identify your feelings, because it will take openness and sincerity to tell your friend the truth. So give yourself enough time and space to understand yourself.
4. Whether you decide you like him or not, you have to tell your friend the truth. We recommend that you do it openly and truthfully. Do not excuse, do not repent, say everything as it really is. In a situation where the event is already "post factum", the only thing that would make the most sense is a sincere and open dialogue with your friend. In the end, she will choose for herself whether she wants to be your friend after this. And you have to respect her decision.