My mother works for a travel agency, so sometimes I have the opportunity to go on a new route exploration with my mummy. This time it was Italy. Why not collect the best swimsuits and the most beautiful summer dresses, give a basket for Latvia's unpredictable summer, and make a company for your mother? I see no excuse. That's how my pervert story started.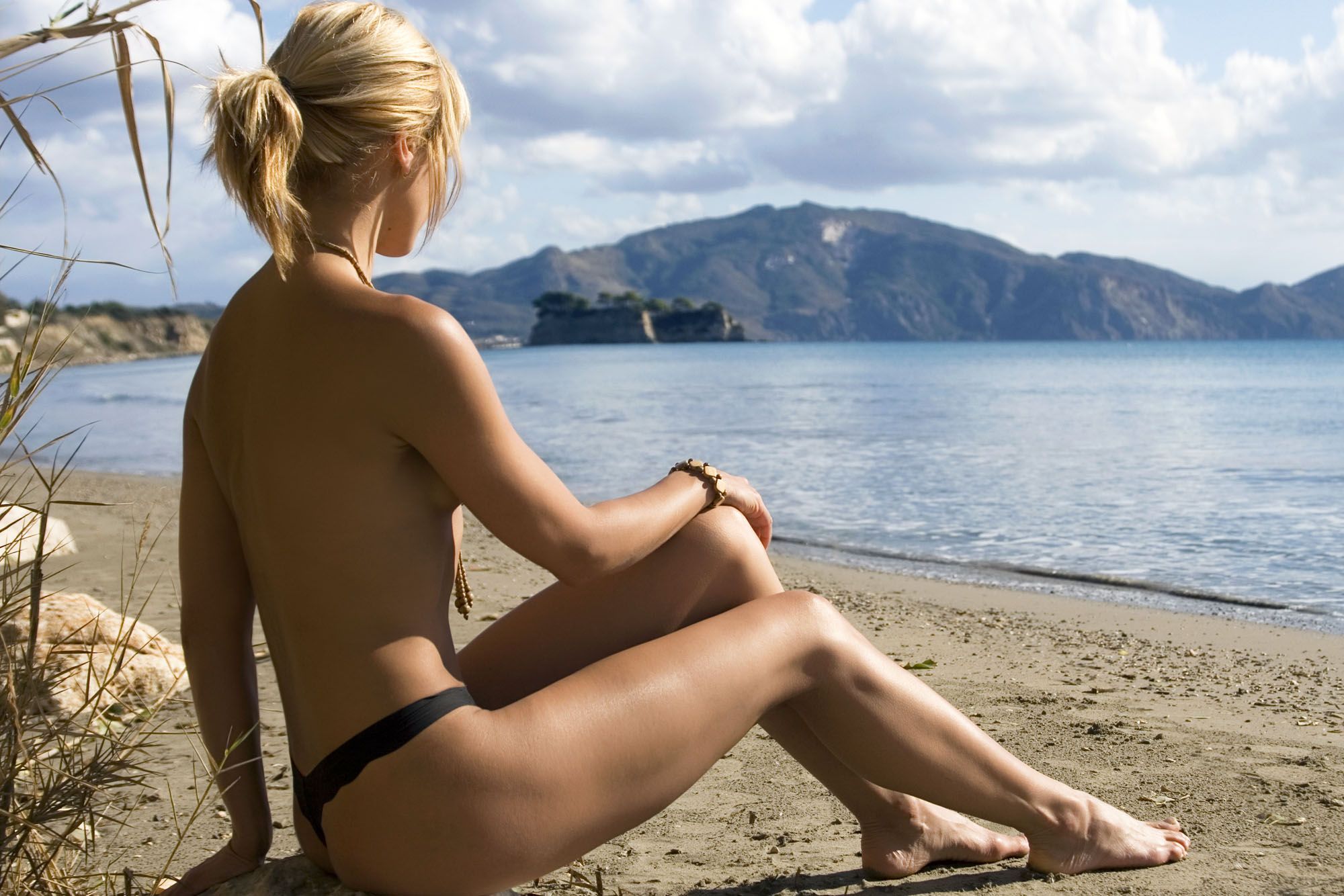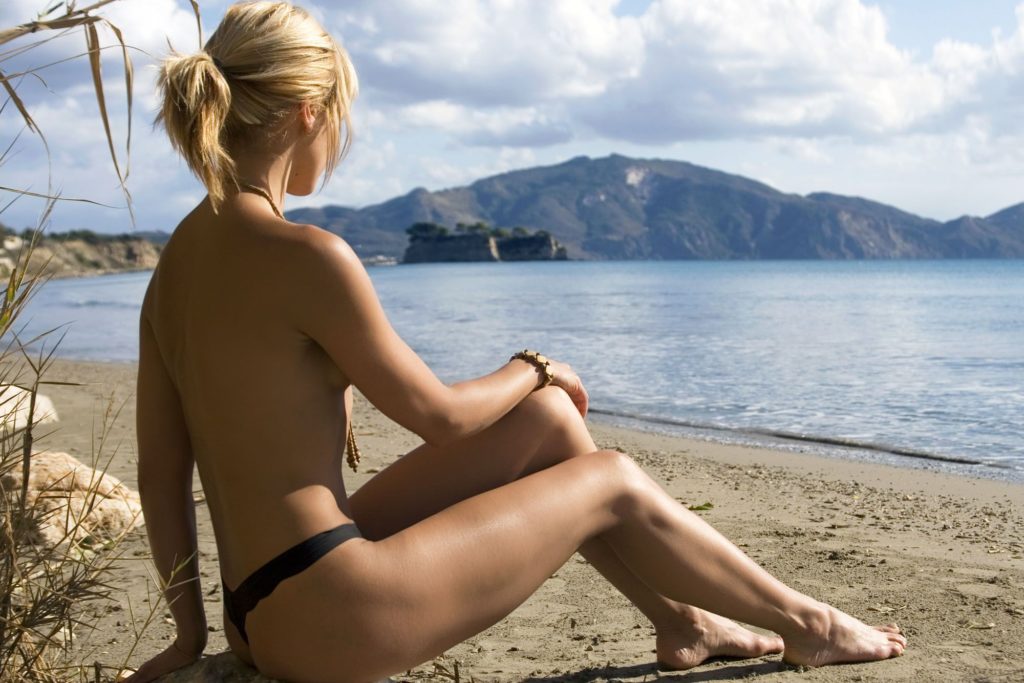 So we went to Italy
The local Italian resort town welcomed us with hospitable indigenous views, a warm sea, and a burst of guaranteed sunshine. My mother conscientiously went to tourism seminars every day, giving me the freedom to relax as much as I like. The initial acclimatization was rather strange – it was hard to get used to the smiling and open faces of the Italians after the gloomy exploration of the counters, and the appreciative gaze given to me by the young people as I basked in the sun, showing my slender legs and size D breasts. I note that the main researchers of my art are four young people who regularly engaged in the same idleness as I did – the sun, the sea, and refreshing baths.
Already spent a week here
While researching a pleasantly brown tan in the evening, I concluded that the sun of the last day spent here should also show the chest, otherwise there is no big difference – naked or with a swimsuit top, because when I took it off, a pale bra mark was left on my body.
So, no matter what the locals think of me – sunbathing half naked.
The next day I chose a more remote corner of the coast and fulfilled what I intended. I undress, spread my windowsill and lie down to bake in the scorching sun. Here I will suddenly be frightened by an unknown noise. As I opened my eyes, I saw three of the usual Italian quartets staring at me shamelessly and trying to tell me something in my tongue. Surprisingly, I even forgot that I was sunbathing without a top, but I was soon reminded of their close eyes. I mean, what can I do now to portray the saint and the untouchable? I thought that everything is as it is, after all – there are no Latvian pupils in Latvia and any adventure at that moment seemed tempting enough for me to afford.
The young men thought similarly
After a while, the young people ran to the basket with a bottle of wine and snacks. The guys gave me a bottle of wine. I enjoyed the delicious wine with the greatest pleasure but drinking a drop of wine dripped from my throat. After a moment, one of the young men bent down to lick it with his tongue, and it turned out that I had no objection to this adventure.
The courage of the first young man and my indulgence was the greatest motivator for the others.
Now I felt the caresses and kisses of all three hands covering my body.
The most shameless gesture took off the only piece of clothing that allowed me to see my beauty in full. The same bastard sucked on my well-groomed Latvian squirrel with his lips. I shivered. He became brazen and faster entering me with his tongue. The others, without ceasing to caress me, watched and began to get rid of their clothes with their hands-free. I did not think that such depravities could incite me, excite me and create such well-being.
Nekauunas continued what he had started
One of the Italian kennels decided to keep up and offered his mouth to my mouth. I didn't even think I could accept it all and sign it but don't condemn, I liked it. I coveted his limb with my lips to share the well-being his friend gave me. The muzzle swung his mouth to replace his tongue with his dick. It was big, strong, and mighty.
My legs were opened and it came into me by force to start my movement, filling me again with well-being.
One member in me, the other in my mouth. I woke up from the wrongness of the situation, from the depravity. The third one continued to caress me and caressed myself watching what his friends were doing to me. Perceiving my exploratory sight, he cuddled closer to me to start stroking my chest with his cock. The moment and the depravity of the situation made me stop. But they didn't stop, even though my body was shaking. After a while, the rest of the crowd and others shuddered to offer me wine. I did not understand the conversations and the words they gave me, and in fact, it was even irrelevant, because tomorrow I will no longer be here and I will hardly ever allow myself to do that again. I was ready for anything. I wanted to enjoy it.
It was so nice
Watching the young man's slender and muscular stance, satisfied faces, and ready-made swords, I radiated with delight. Here the third lifted me up and sat me on the top. I felt that I was fully prepared to continue what I had started. The breasts are pointed and swollen, the pussy is swallowed like a sweet syrup. I moaned in well-being, giving in to the greatness and power of his hand. A second came in front of me to remove my hair from my forehead, to kiss it, and to give back my majesty to my mouth again. It seemed to me that I was not in this world, and that fascinated me.
This situation was worthy of a porn magazine – I never thought I could do that.
With my gestures, I also invited the third Italian cell to rejoin us, which he was happy to do. This bastard came through me in the ass. Yes, I had three men. Three mighty men. They passionately fucked me and shifts, I didn't care where anyone was, because something like this had never happened to me before. One of the three heroes suddenly retreated with a loud voice and ended moaning. The other two, moving fast, continued to fuck me to finish in a moment.
We each went to our side
After that time I didn't meet them anymore and it's just that. But once it was enough for me to realize that I was in fact hiding a great spirit of perversion, which I carefully hid and will never reveal to anyone again. Maybe…