Looking back at the pandemic, when social distancing and calls to stay at home prevented many from having sex as well, you may have started masturbating more than ever. Although masturbation has obvious advantages – it is not possible to catch an STD or accidentally fertilize your partner, the question may arise whether you have a habit of masturbating "too much".
After all, excessive masturbation is not ok. When we think of guys who masturbate every day, we usually imagine adolescent boys hiding in their locked rooms and trying to set a record for the day. Rarely would anyone imagine a successful, adult man in a loving relationship?
However, there is no such thing as excessive masturbation. "Some people masturbate more than others," says the International Society of Sexual Medicine. There is no such thing as a "normal" frequency. Some do it every day, some every week, but others rarely. Some don't do it at all. " Although 27% of men between the ages of 30 and 39 masturbate once a week or even less, the figure varies dramatically with age, according to a 2009 survey of 2,500 American men.
"No matter how often you masturbate, it's not a problem as long as it doesn't negatively affect your life," says Dan Drake, a certified sexual addiction therapist, and clinical consultant.
But that doesn't mean you can't have problems, especially if it interferes with your daily life.
So when does a harmless masturbation habit become a problem? Let's look at the physical and psychological signs that we should slow down a bit.
1) YOU ARE HURTING YOURSELF
Some guys masturbate so often that they actually hurt themselves, says Tobias Koehler, a urologist at the University of Southern Illinois. These injuries may be easy (for example, abrading the skin) or more serious problems such as Peyronie's disease, or scar tissue build-up end of the penis, which can cause too tight grip use during masturbation.
This may seem obvious, but if you masturbate so often that it causes physical pain, you need to reduce the frequency of this exercise.
2) IT AFFECTS YOUR WORK
If you can't finish the task at work because you can't stop thinking about masturbating, then that's the problem. If you constantly watch porn at work or miss meetings because you are masturbating in the toilet, this is most likely a problem.
3) YOUR FRIENDSHIP IS SUFFERING
Do you cancel meeting friends because you want to stay home and masturbate? Are they getting annoyed by your constant refusals? Then your masturbation habits could be to blame.
Let's be straight: if you do it before bed, everything is fine. You should be concerned if this has a clear negative effect on the relationship.
4) YOUR SEX LIFE IS SUFFERING
Some guys who masturbate a lot use one type of stimulus, such as certain categories of pornography along with special hand movements. When it comes time to really have sex, they discover that they can't get the same kind of arousal, explains Dr. Koehler.
Basically, if you watch the same pornography or use the same hand movements every time you masturbate, it teaches your brain and body to have an orgasm just this way. If you have sex with a real partner, it can cause serious problems both in terms of getting and maintaining an erection.
5) YOU ALWAYS THINK ABOUT MASTURBATION
You wake up and want to masturbate. For lunch, your mind dreams of your favorite porn scene. The way home is almost unbearable because you just want to sit on the couch with a beer and PornHub.
If any of this sounds familiar, and you're often obsessed with when and how you'll be able to do it, then it's clearly a problem, the sexual addiction therapist explains.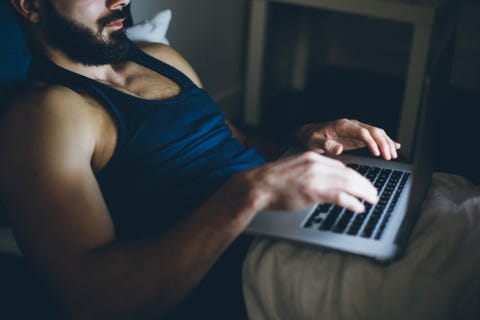 WHAT IF YOU REALIZE YOU HAVE MASTURBATION PROBLEMS?
"There is nothing unhealthy or problematic about masturbating," explains Dr. Drake. "But if it becomes harmful to your life, then you have to treat it just like any other harmful habit." One of two things should be done: a) stop masturbating completely, at least for a while; or (b) set certain limits, such as masturbating only in the evening before falling asleep.
Given that you would most likely be willing to agree to the second option, set your own specific rules and test your ability to follow them. If you can't, and you get into bad habits again, consider visiting a therapist, because there may be a deeper psychological problem.
Conclusions? It is good to give in to a little self-love from time to time. Only when masturbation interferes with your physical and mental health, work and relationships does it become a problem. But if it does not interfere negatively, then be complacent to your heart's content!