Continuing our series of articles on birth control (read the previous article on free contraception here), this time we will look at the contraceptive methods that you can use during each intercourse.
Different types of condoms, contraceptive sponges, diaphragms, spermicides are contraceptives that are much more reliable than the "natural" methods of protection mentioned in the previous article. These are often called barrier birth control methods. Compared to different medicine, the cost of these contraceptives is relatively low and it causes minimal side effects in the body (except in rare cases of allergies).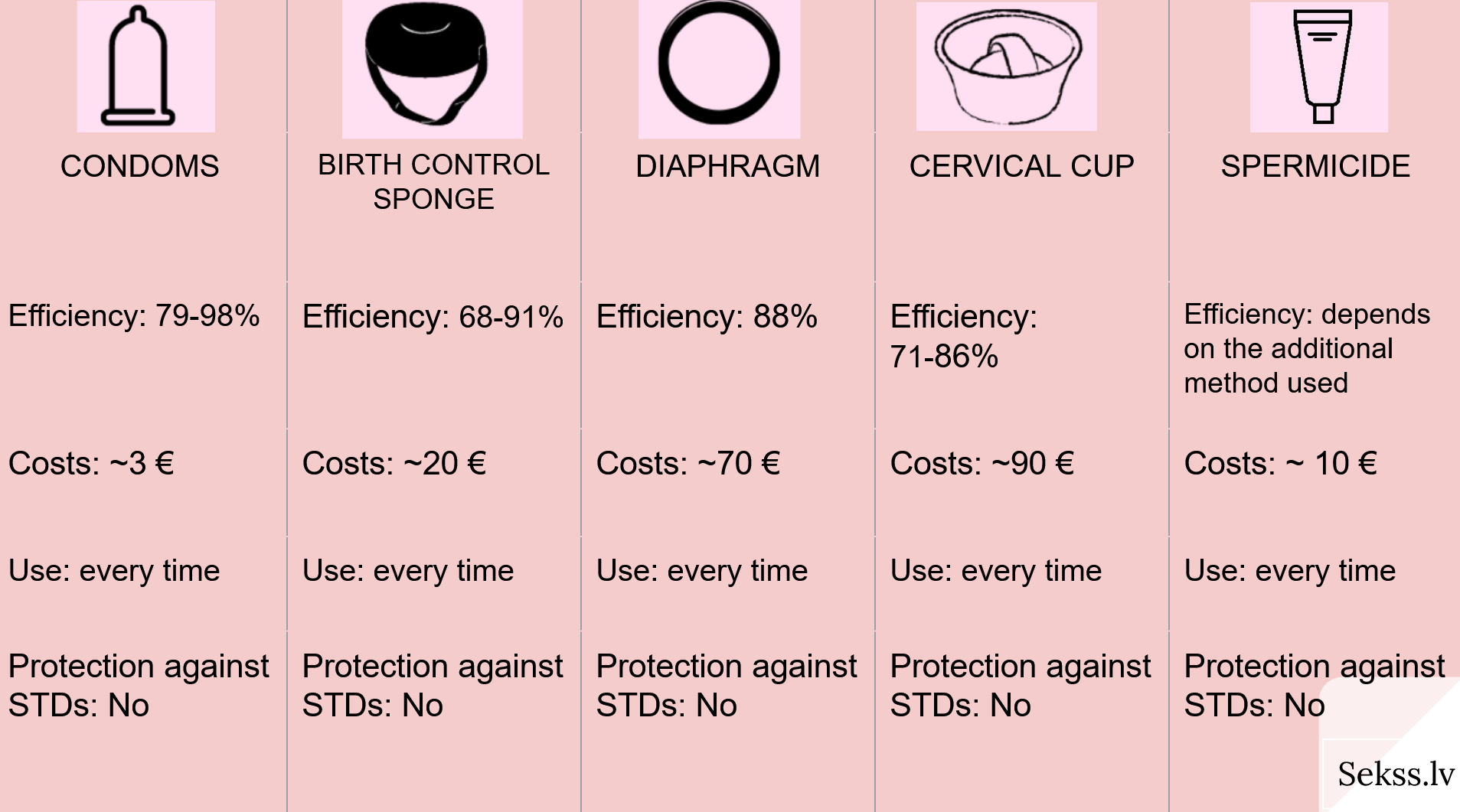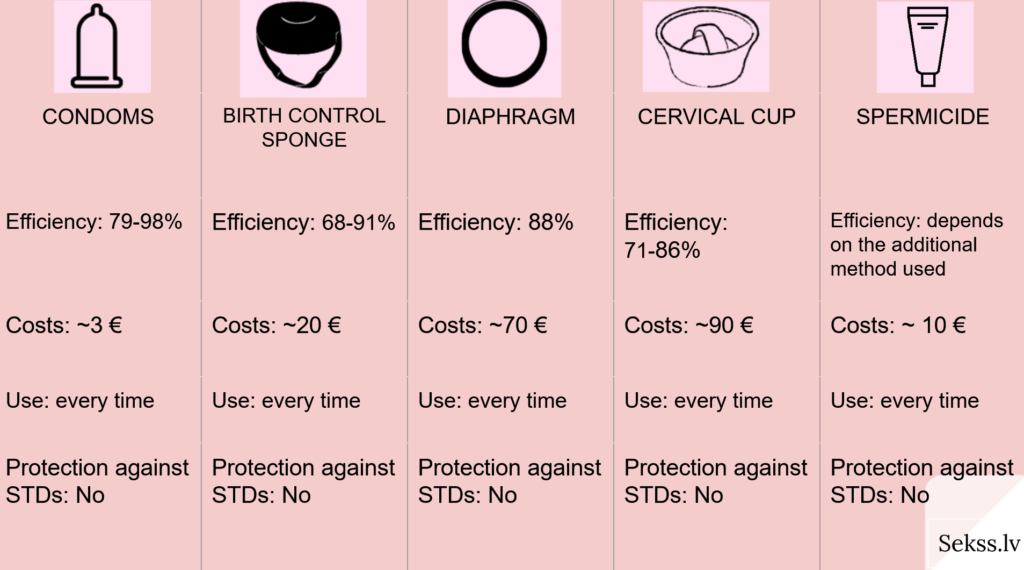 Female condoms
These are internal condoms that do not contain latex and hormones. Their main component is polyurethane, so they are perfect for people who are allergic to latex material. As they protect against direct contact with partners. Such condoms not only help prevent unwanted pregnancies, but also provide excellent protection against sexually transmitted diseases. However, according to the Planned Parenthood Association website, such condoms provide only 79% protection. These condoms can be placed before sexual intercourse – they can remain in a woman's body for up to 8 hours – a great alternative for those couples for whom putting on male condoms is inconvenient and spoils spontaneous passion.
Male condoms
It can be said that this is the classic of birth control. Due to their good price and high efficiency (98% when used correctly), condoms are extremely popular with people of all ages. Because condoms also protect against STDs (sexually transmitted diseases), they are often used by people who do not have a regular sex partner or who enjoy one night stands. Condoms are also extremely available – they can be purchased at virtually any point of sale. However, people see some flaws in condoms. For example, others claim that they suppress feelings, and it is also possible that a condom may break during sex.
Contraceptive sponge
This "barrier" method did not appear on the world market until 2005. It is a soft disc-shaped device with intrauterine contraception. It is made of polyurethane foam and contains the spermicide nonoxynol-9. Before intercourse, the sponge must be moistened and inserted into the vagina with the loop side down by covering the cervix. The effectiveness of the contraceptive sponge is 84-91% for women who have not given birth and 68-80% for those who already have children. The contraceptive sponge is valid for several sessions within 24 hours, however, there is a risk of Toxic Shock Syndrome if the sponge is not removed for more than 30 hours. The contraceptive sponge does not protect against HIV and sexually transmitted diseases. If a woman is allergic to nonoxynol-9, another method of contraception should be chosen.
Diaphragm
This is a prescription, reusable method of contraception. The diaphragm looks like a soft, silicone bowl that is saturated with spermicide. One of the biggest benefits of this preventative measure is that the diaphragm does not contain latex or hormones and can remain in a woman's body for up to 24 hours (do not forget to apply a spermicide every 6 hours). Efficiency – 88%. However, this precaution is not suitable for those who enjoy aggressive and fast sex, as this may cause the device to fall out. The use of a diaphragm is not recommended in women with frequent urinary tract infections.
Cervical cup
This is another tool that needs to be saturated with spermicide. The cervical cup is placed on the cervix to prevent sperm from entering it. The effectiveness of this contraceptive depends on whether the woman has given birth: 86% of women who have not given birth and 71% of women who have given birth. This is a great choice for those who do not want to use hormonal contraception or are planning to become pregnant in the near future. The cap should be left in for 4 hours after sexual intercourse. To get it, you need a prescription. It is recommended to buy a new one every 12 months.
Spermicides
And now you probably have a question – what are spermicides? Generally speaking, spermicides are a method of contraception that kills sperm and prevents it from moving to the egg. However, spermicides themselves are not effective without additional measures (condom, diaphragm, cervical cap). There are also allergic reactions to spermicides, so we recommend that you follow your body signals and well-being. In addition, spermicides may not work if you are taking medicine for vaginal thrush. These measures also do not protect against STDs.