Dear women, have you ever wondered why sex did not give you the pleasure you dreamed and expected? Probably you are. Why did it happen and how do you get what you want from sex? The main problem that often causes women to become dissatisfied with sex is their personal fears. For them, sex is like a minefield – full of unexpected surprises. The very fact that something from the outside world enters them is a stress to the body and mind. Not to mention the other "dangers" that lie in love. So what fears prevent women from getting real pleasure from sex?
I'm not perfect
The biggest fear of a woman is – he will see me naked. "Oh, horror, I have a pimple on my back, cellulite on the bottom, I haven't epilated the bikini area" and so on. The fear that the man will study you in detail does not allow you to relax and makes it impossible to have a proper rest, where you can still enjoy it. Therefore, during the night of love, you tried to pull your stomach, give up your hair beautifully, lie down in the best position, in short, do everything else, just not in the mood for sex.
In fact: The moment you finally get to bed with him, the man is indifferent to such stuff. Of course, he wanted it because you are physically attractive to him, but he does not appreciate your body by the millimeter, he wants you and completely, with all the disadvantages and all the advantages. So stop analyzing your inconsistency with an imaginary ideal and just enjoy sex with your loved one. Don't be ashamed of yourself – once a man has chosen you, then he is completely satisfied with you!
I don't understand anything
You feel that you will not be able to give a man pleasure, because you just do not know or do not want to do some things in bed. For example, you don't consider yourself a champion of "oral sex" or maybe you haven't had sex in a while and you feel like you've forgotten how TO do it.
In fact: Of course, in life we ​​gain some experience. But don't forget the most important thing – every love is unique. There is no specific scheme, it is everyone's "how" and "what to do". People who want each other and are ready to give each other pleasure just meet. Maybe your previous partner liked something, but the current one is excited about something else. Relax and try to feel what the other wants. And if suddenly something goes wrong, he can say it or otherwise show it and steer in the right direction.
He doesn't love me
The thought that he will not want to see you after sex can become a serious obstacle to pleasure. Of course, we all want sex to be directly related to deeper personal relationships, mutual feelings, mutual admiration, and so on, but that's not always the case, and sometimes sex is just sex. Understanding this can be really painful and sad.
In fact: If you go to bed with a man, there is no point in analyzing the possible emotional consequences. Both because they are quite unpredictable, and because even if your long-term relationship is not long-lasting, it is better to treat it as a pleasant adventure. Yes, it's true, men are the ones who have sex more often, as they say, because of the sex itself, but if your partner is attractive to you, why not be tempted?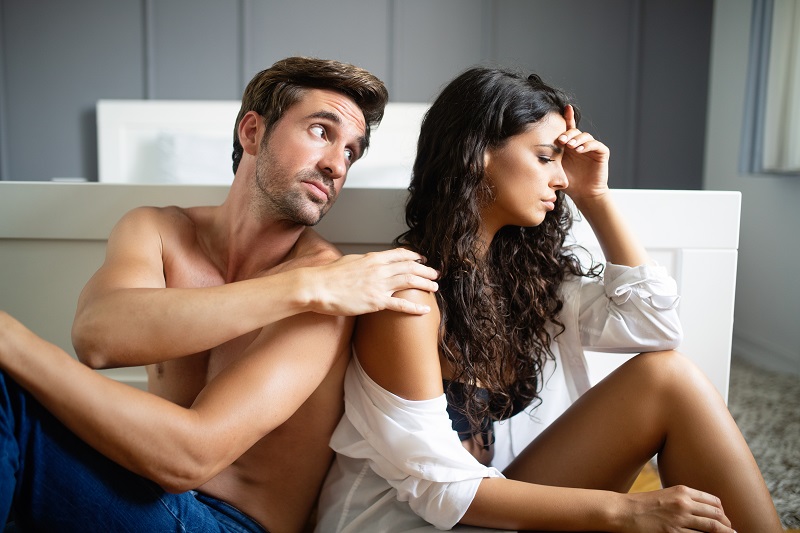 If I do TO, then he will think I am…
It happens that a woman has desires and fantasies in sex, for which she is a little ashamed. For example, someone likes that a man is a little rude during sex or whispers rude words in his ear. "What if he thinks I'm some kind of pervert?" – the woman is worried and quietly silent about her wishes.
In fact: Of course, on the first night together, it would not be desirable to make all your sexual fantasies known. And not just because he might misunderstand it, but just because you need to get to know each other a little bit in the beginning, you need to assess how your sexual temperament and passion match. If you agree, then be sure to tell us about your wishes. The purpose of sex, however, is to bring pleasure, and the man will only be happy with your "leading instructions."
I will offend him
Fear of insulting a man in some way forces a woman to endure… For example, a man acts too fast, but you endure in silence – "what if I offend his self-esteem ?! It's better not to say anything. " As a result, no one is happy, and you have unpleasant memories of meeting, you may not have an orgasm at all.
In fact: Who can really hurt a man? Depicted orgasm, your tense and turned face, because maybe you even have pain. Don't think that a man is so blind that he will not even notice your suffering during sex. Therefore, if you do not like something, if it hurts, it is uncomfortable, unpleasant – tell your partner immediately. Of course, as delicate as possible; gentle but convincing.
And if now…?
If the condom breaks, will I stretch my leg, will the ceiling fall or will the end of the world come? No, it's better not to start at all, otherwise communicate what else might happen.
In fact: If you are afraid of unplanned pregnancies, sexually transmitted diseases, discomfort during intercourse – it is quite logical. Therefore, in order not to spoil the pleasures of sex, you must prepare in advance. Use condoms or other contraceptives. If you are afraid of physical discomfort, it is possible to use special lubricants and gels. You are a grown woman, and you have to think about your safety and your comfort before making love, so that you only think about sex during sex.
So, dear women, if you and your husband have come to the bedroom, just relax and enjoy!