If you belong to the type of people who is never late and do everything on time, these protection methods are definitely worth remembering. Contraception methods described below must be used on strict schedule, as the risk of becoming pregnant increases significantly if you forget to take, for example, a birth control pill. Contraception that is used on a regular schedule is extremely reliable, but the costs are also higher.
Also read: "Contraception you can use during sexual intercourse" and read about various birth control methods that do not cost money.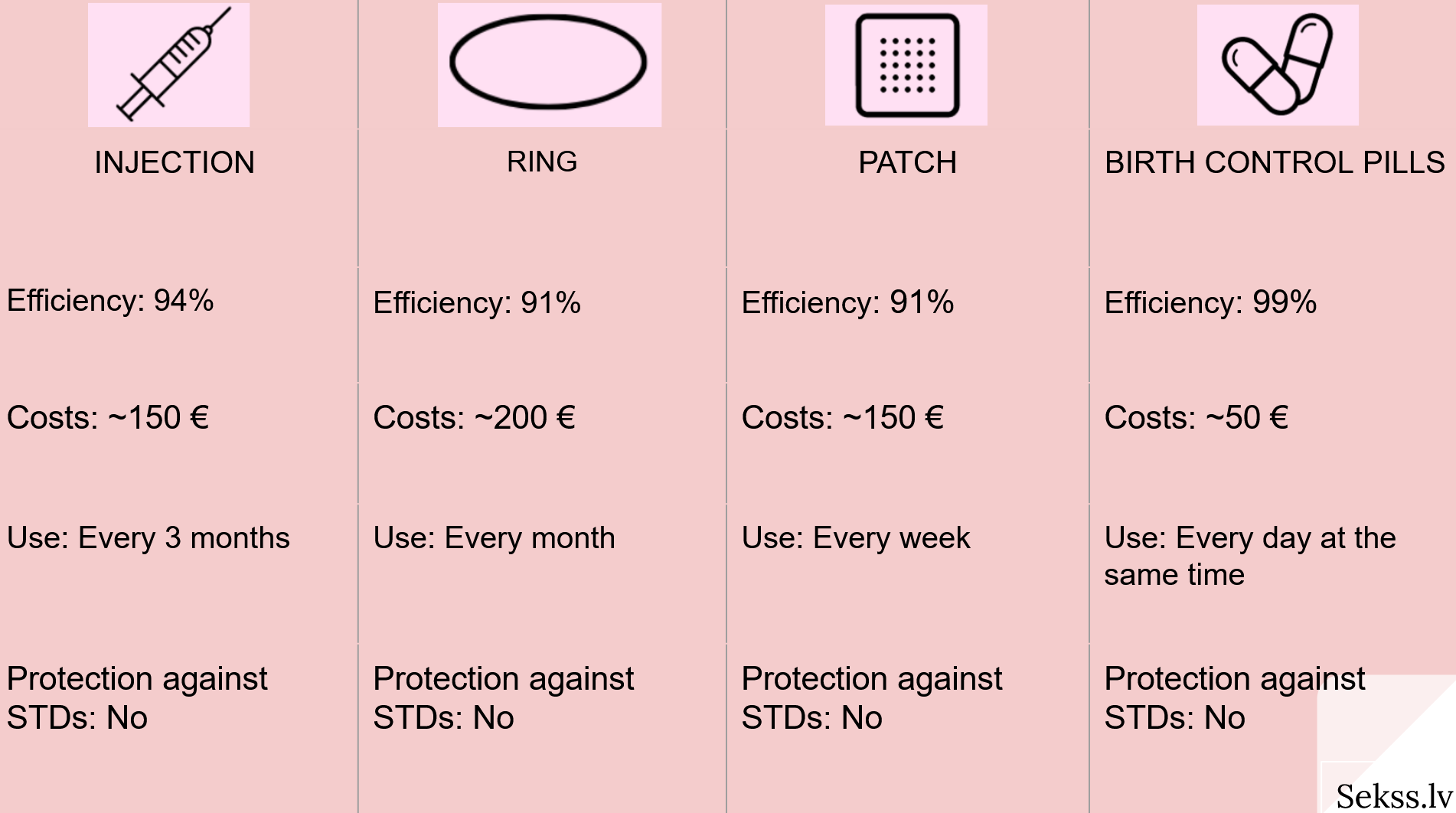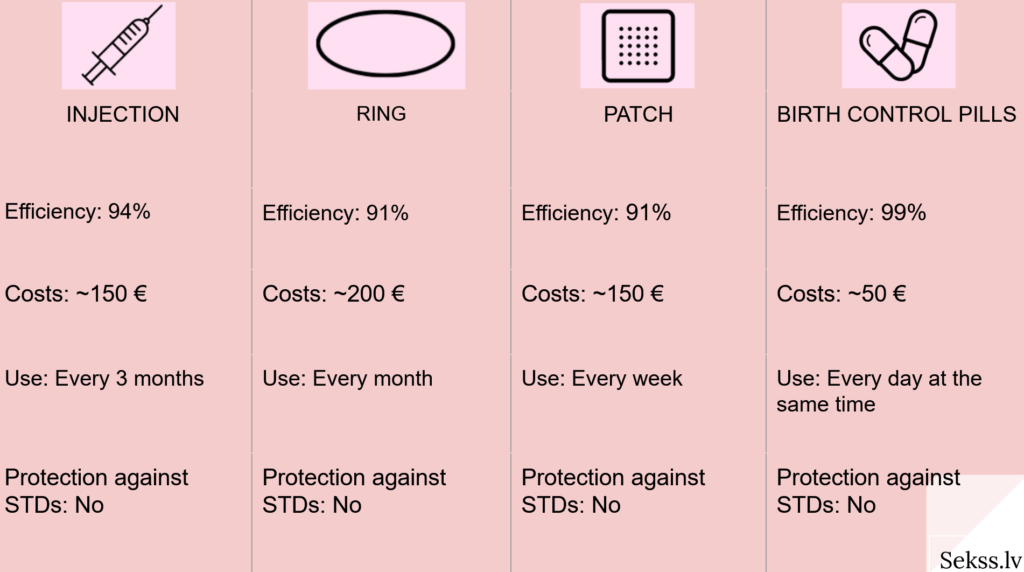 Injection
This is a hormone injection that protects against unwanted pregnancies for 90 days. Efficacy – 99% when used very responsibly and according to instructions, usually 94%. This medicine is one of the best protectors against unwanted pregnancies, and gynecologists recommend it for women who have painful and extremely heavy periods. However, the disadvantages of this contraceptive must also be taken into account. The "Healthline" states that you have to wait at least 10 months after the last injection if you want to have a baby. In addition, eating disorders, nausea, chest tightness, and changes in libido and mood may occur in the first months after the procedure.
Ring
It is a 7-centimeter-wide contraceptive that contains estrogen and progesterone. Such a ring that stops ovulation is prescribed by a gynecologist. The ring is inserted by the woman herself and should be left for 3 weeks, after which it is recommended to remove it for one week so that menstruations can start. The reliability of this method is 91%, and the average cost is up to 200 euros. Some disadvantages: may cause breast tenderness, headaches. Woman is not protected from pregnancy when she does not wear a ring for that week off.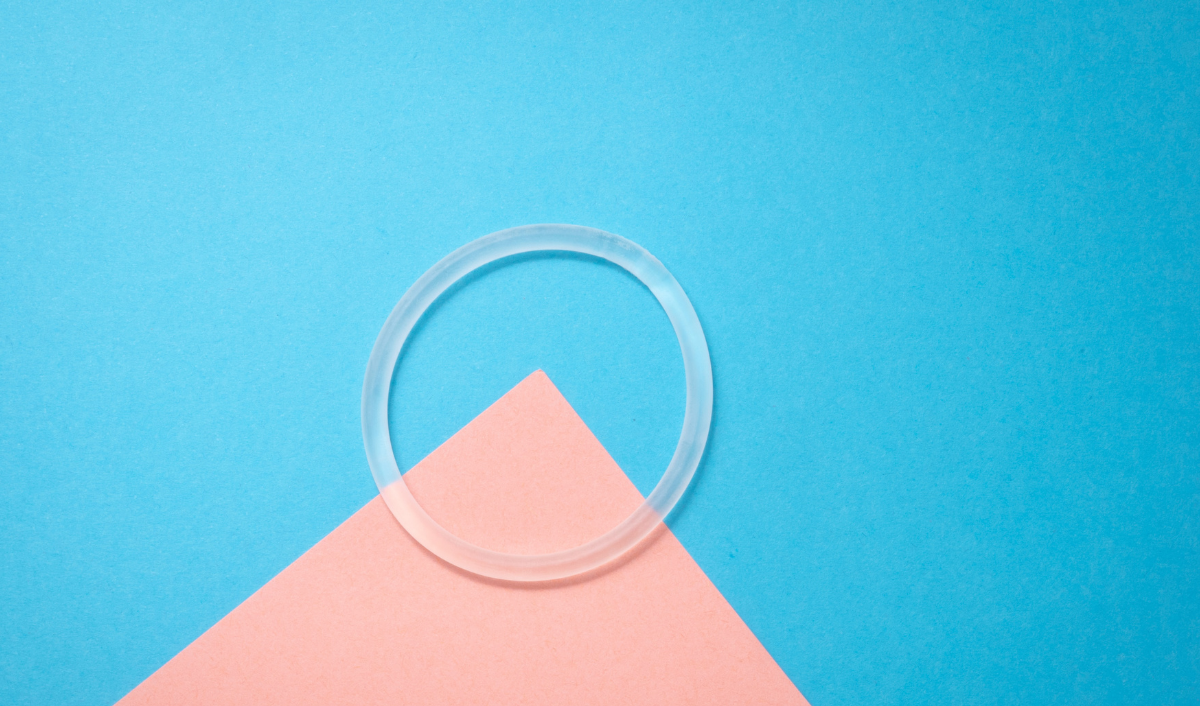 Patch
It is glued to the arm or back. It releases estrogen and progestin in the body, which stops ovulation and makes pregnancy impossible. The patch should be changed once a week, but it is recommended that you do not use it for one week so that you period can start. The effectiveness of this method is 91%. Many women emphasize the benefits of using the patch, such as relatively few side effects. You also don't have to think about another contraceptive for a whole week.
Birth control pills
It is a contraceptive that must be used at the same time each day. The hormones in the pills stop ovulation and you cannot get pregnant. When used perfectly on schedule, the chance of getting pregnant is only 1%. However, many women admit that it is not always possible to remember to take a pill on time during a trip or after a good party, which reduces the effectiveness of this method to 91%. One of the biggest advantages of this protection method is that there is no need to insert or implant anything. Gynecologists often prescribe birth control pills to women to relieve various menstrual symptoms.