Meet vaginal balls – a discreet and effective way to strengthen the pelvic floor muscles and increase sexual pleasure. Women around the world have been using them for centuries to improve their intimate health. With a simple but stylish design, these balls are a safe and natural way to strengthen the pelvic floor muscles, which can help with problems such as urinary incontinence or sexual dysfunction. Not to mention that the strengthened muscles will become more flexible, so you will reach orgasm faster and bring more pleasure to your partner! Only one question remains relevant – which balls to choose?
---
How to orgasm when making love in the missionary position: one movement is enough
---
Variety of vibration modes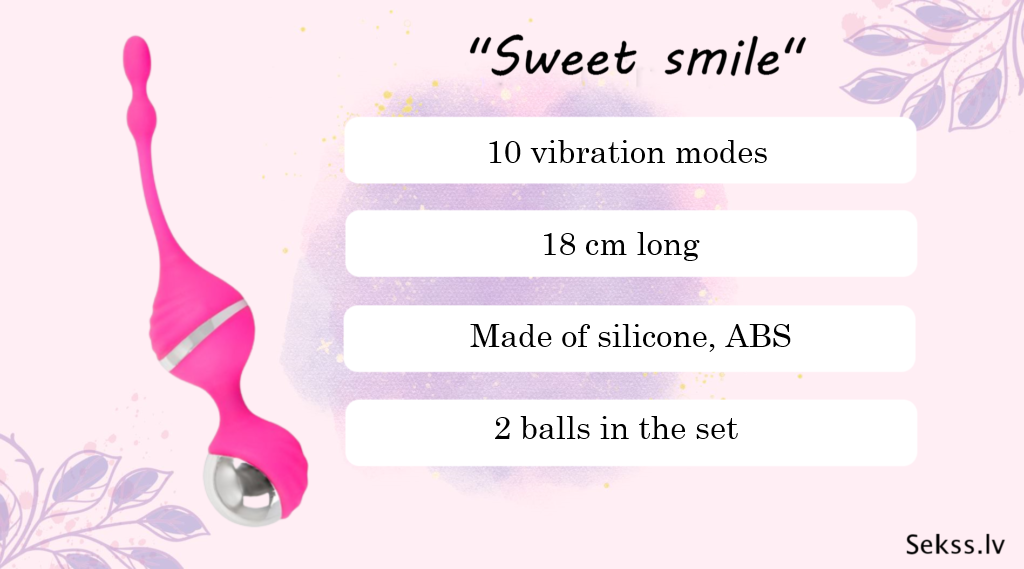 Vibrating vaginal balls "Sweet Smile" will provide dizzying adventures, improve sexual health and allow you to achieve more intense orgasms! These bright pink balls are interconnected and decorated with silver details. With 10 vibration modes, they train the muscles of the small pelvis, provide erotic stimulation and can prevent urinary incontinence.
These balls are made of silicone and ABS materials. Weighing 73 g, they are 18 cm long and 3.7 cm in diameter. There are two balls in the set. They can be charged with a USB cable, charging time is 2 hours.
Train the pelvic muscles gradually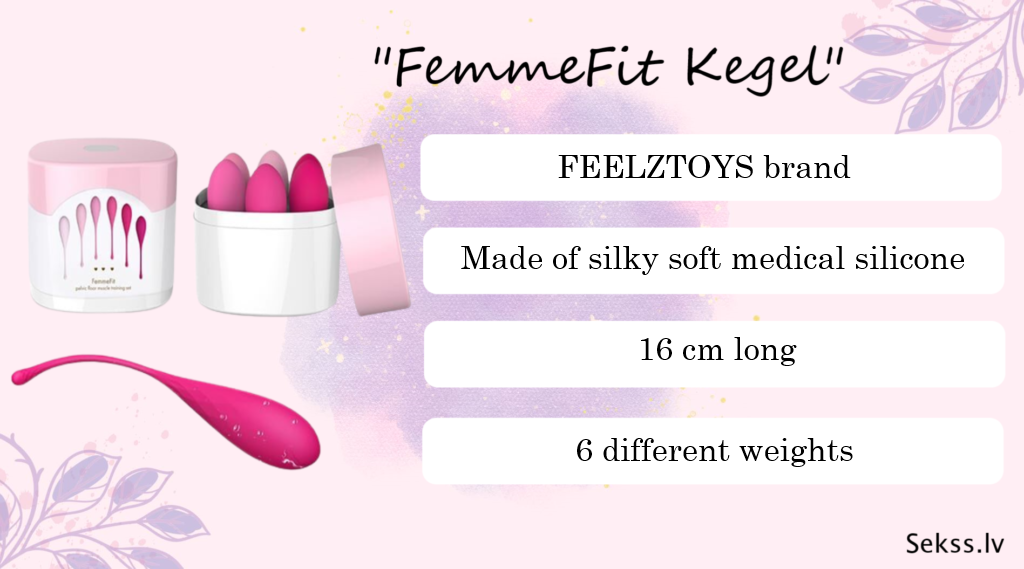 "Feelztoys" is a high quality brand that offers a special luxury set of "FemmeFit Kegel". These pink colored balls have a smooth shape and are equipped with strings that make them very easy and convenient to use. Performing Kegel exercises will strengthen the muscles of the pelvic floor and vagina, which will allow you to enjoy more intense sensations during sex and experience stronger orgasms.
This set includes 6 vaginal balls of different weights. It is recommended to start with the lightest and gradually increase the weight to feel the muscles getting stronger. The balls are made of silky soft medical silicone, which is antibacterial and anti-allergic, quickly adapts to body temperature and is easy to clean. Feelztoys Vagina Balls are 16.1cm long, 2.8cm in diameter and available in 6 different weights: 50g, 65g, 80g, 95g, 110g and 130g.
Innovation with a smart app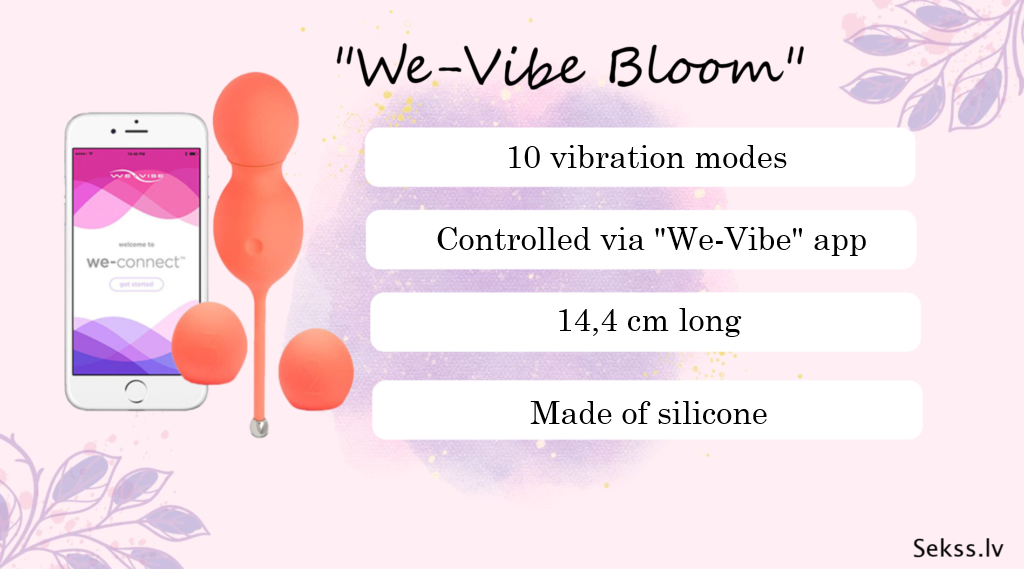 "We-Vibe Bloom" vaginal balls are an innovative product for sexual pleasure and health. Exclusive vaginal balls are made of silicone, which is safe for the body, quickly adapts to body temperature and does not accumulate odors. The set consists of one base ball and three interlocking balls that can be changed according to the desired weight.
We Vibe balls have 10 vibration modes that stimulate and help train muscles. Vibrations can be controlled via a smart app or buttons. By downloading the We-Vibe app, you can create personal vibration rhythms and track your progress. The app is compatible with iOS and Android operating systems and Bluetooth 4.0 or later. The app is available for free on the App Store and Google Play.
We-Vibe balls are 14.4 cm long and 3.3 cm in diameter. The first ball weighs 11 grams, the second – 29g, the third – 44g, and the weight without the extra ball is 34g. The balls are charged with a USB cable.
Both vaginal and anal stimulation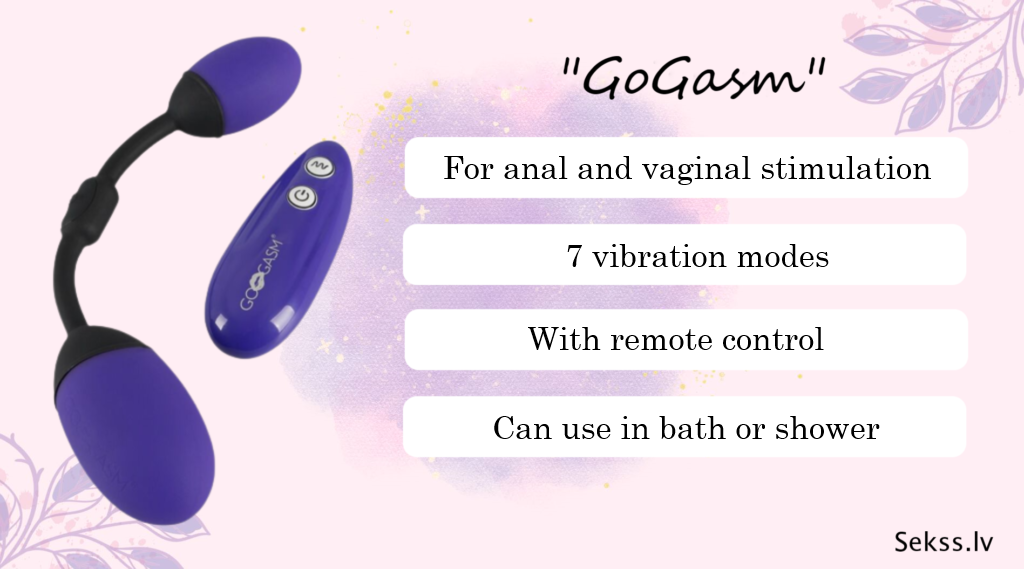 GoGasm Vibrating Balls are a great pleasure and muscle training tool in one! They can be used not only for Kegel exercises, but also for anal and vaginal stimulation. The balls are made of silky soft silicone that does not accumulate bacteria and quickly adapts to body temperature. They are easy to clean and they are durable.
The largest ball has 7 vibration modes and can be controlled by remote control. The smaller ball is freely movable and designed for more intense anal stimulation. The toy is discreet and works quietly, so the bravest can use it even in public! These balls are waterproof and can be used in the bath or shower.
This toy is charged using a USB cable.
Exciting vibrations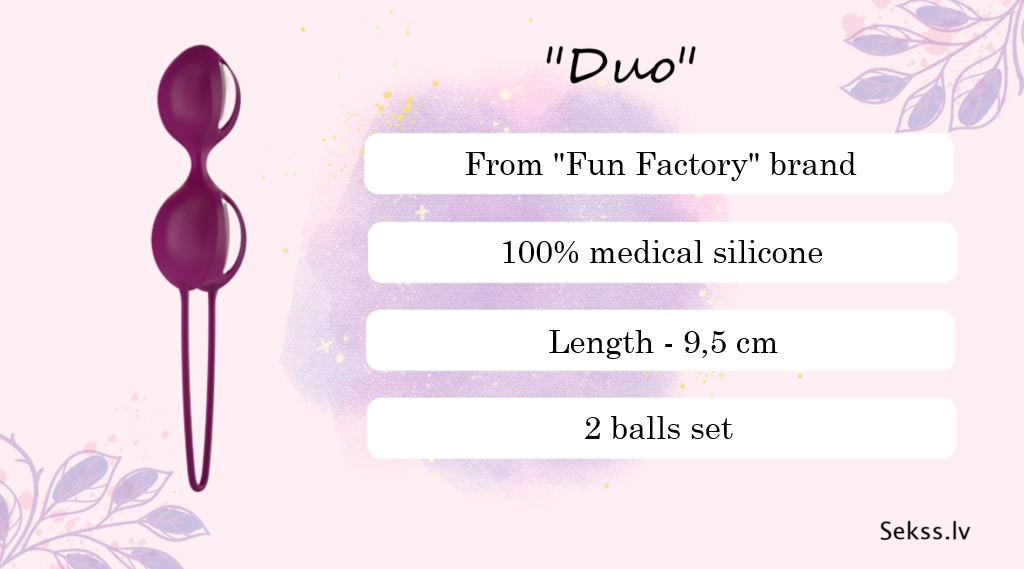 "Duo" vaginal balls are balanced to strengthen vaginal muscles while providing exciting vibrations. These balls produced by the worldwide popular brand "Fun factory" are made of 100% medical silicone. They are easy to care for and do not cause allergic reactions. The diameter of these balls is 3.2 cm and 3.6 cm, the length is 9.5 cm and the weight is 72 g. Number of balls – 2 units.