Everyday worries, stress, fatigue – all this affects the sex life. When we run like a squirrel on a wheel, we tend to neglect ourselves and our partner, but is that right? Do you need to make love if you don't want to – just for duty? This question is answered by two experts.
SEX "BY DUTY" – YES, BECAUSE LOVE CAN "LIFT YOU". ANSWERED BY PSYCHOTHERAPIST KRISTĪNE AŠMANE
Yes or no – it depends on the situation and the couple. If the couple has a good relationship, the partners have a desire to understand each other, there is mutual openness, trust, and respect, then even if fatigue has occurred and it seems that they do not want anything anymore, love can "take wing". In addition, it is easier to fall asleep afterwards. Often women's 'no' actually means 'yes'. To feel this, the partners need to get to know each other well enough – it doesn't matter how many years the couple has been together, more importantly, how often they spend time in quality negotiations. So, if there is equality and balance in the relationship, the couple knows each other enough, love is allowed, even if at first it seems that they do not want to.
I am not talking about forced sex – physical, emotional, or duty (for religious reasons). That is another matter. As long as one does not have a deep desire to approach the other intimately, one does not have to, because it can hurt oneself. And if the partner is mature and truly loves, he will not fully enjoy such "coercion".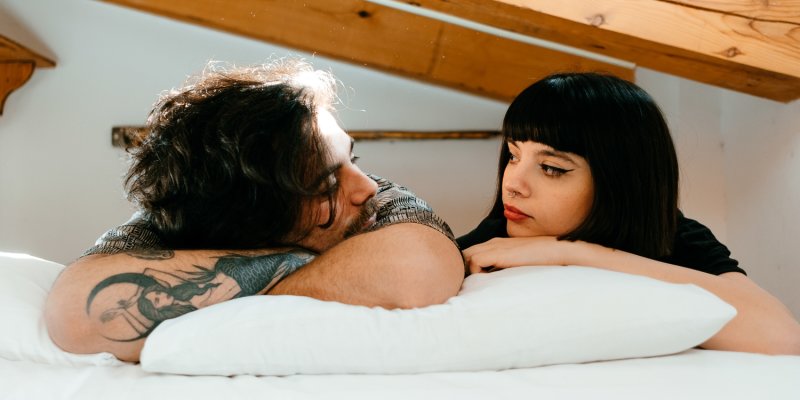 Bitterness can be unconsciously expressed in society by saying something bad about a spouse
Suppose a wife makes love to her husband by duty. Later, her bitterness may manifest itself unconsciously. For example, in society, when others hear, she will say something nasty about her husband. Forced love can increase mutual misunderstanding, dissatisfaction, suspicion – all this grows in a relationship like weeds. In this case, it is important to talk to the husband and not about who is to blame and who is right, but about both of us – about what makes me or you feel good. It's very difficult to do at first, but it helps.
If a woman's refusal to make love becomes regular, it may indicate that something is wrong with the relationship. Sad if your spouse makes you feel fearful, desperate, angry, or even depressed. Other times it is no longer possible to live with it, followed by the choice not to stay in a relationship. Pronunciation helps to prevent this. Of course, there are crises in a marriage or partnership, and it is not always easy to develop, but for life's crises to rise, the security base must be stable. And even if one gets tired, the other can set the tone. This is the benefit of the partnership. If the relationship is equal, no one will have a hard time saying that they do not want to make love. And there are situations when it is natural – after a long day of work or when the baby grows up in the family. Honestly, courtesy of each other, you can explain why you don't want to. It is important not to offend each other. In addition, you can approach in other ways, without making the other feel excluded or ignored. Although sex is important because a relationship cannot exist without it, it is not the only form of intimacy. Recent psychological research shows that closeness, tenderness, attention, and concern for each other, the quality of relationships is more than sex. Of course, full-fledged sex or love unites it all.
Man is a flexible being who gets used to everything – even to life without sex. But do you have to get used to it if you can do otherwise? If a woman refuses to make love too often, she sheds herself, and this can affect a man. The possible consequences are different. Whether a man will seek happiness and pleasure in other sheets will depend on the maturity of his personality. If a woman's behavior does not affect her and if she has a high enough self-confidence, she will not be afraid to ask her woman and solve these problems. It would be nice if a man had not only an interest in the rarity of making love, but also a desire to understand and be interested in what is happening. It may be that a woman does not want to make love to her other half because there is a misunderstanding in the relationship. This can encourage looking for another partner. In the event of persistent, insurmountable, and unresolved difficulties in an existing partnership,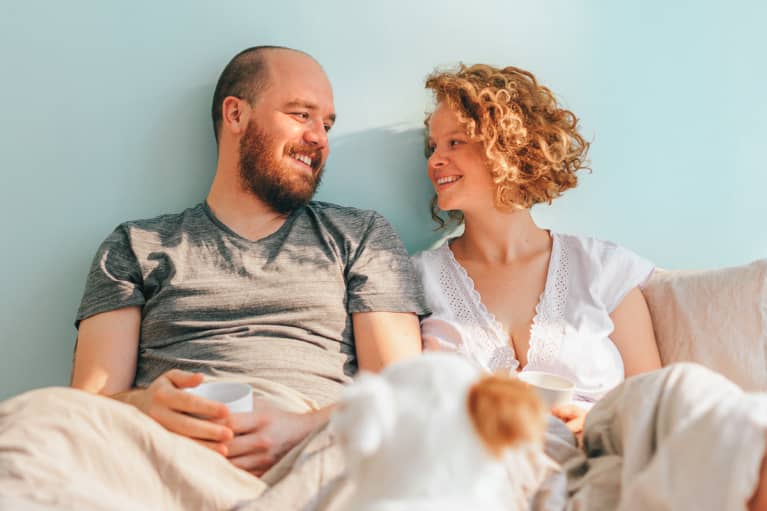 A man who is more sexually active can also manage to move a tired loved one
As I said, no woman can often mean yes, only until a man unleashes her with kind words, touches, and caresses, she doesn't know it. If there is harmony between the partners, it is not difficult to set yourself in love. The role of foreplay is crucial. A man as a more sexually active person, feeling the limits, not only his passion, could manage to move his beloved, even if she is tired. Foreplay doesn't just have to start in bed. Even better if it starts in everyday situations. Women should love themselves and be a little challenging and coveted, men will notice it! You may ignite yourself in passion. And where it is said to fall in love only in the evening, when fatigue is really great. To get the day off to a good start, change afterward can be done in the morning. Maybe at noon? If the couple is creative, free, and relaxed, finding time to make love to each other will not be a problem.
If you feel that you cannot free your mind from everyday problems and find it difficult to have sex, talk to your spouse. Tell him what you think right now. It is not true that everyday events do not need to be discussed in bed. It is sometimes the best place to listen to each other, and if love is followed by mutual conversation, hearing, and understanding, it can really be full and enjoyable.
How often a couple should make love – there is no such formula. One couple needs it every day, another three times a week, or once a month. Each couple finds their own rhythm of love. But women need to be prepared that men want sex more often. This is not just a stereotype. Nature has given men more sexual energy and aggression, which is necessary for motivation in life to achieve and win in small doses. Therefore, mostly men bring mammoths at home – they are careerists and take care of their families materially.
SEX BY DUTY – NO, BECAUSE IT CAN HAVE SERIOUS CONSEQUENCES. ANSWERS SEXOLOGIST ARTURS ŠULCS
Unwanted sex is not necessary, as it can have serious consequences. Women who make love reluctantly, due to a duty to their husband or for some other reason, meet in one institution – an oncology hospital. During sex, the body undergoes physiological changes, which are different in the case of unwanted sex and the times when lovemaking is voluntary. If sex is desired, these changes pass through the body like a huge wave – it is called an orgasm – a feeling of full enjoyment, and physiologically it manifests itself in the relaxation of the small pelvis and other muscles of the body. It has a positive effect on all organ systems. If sex is unwanted, the woman is unable to get rid of, is partially aroused, but is not taken to orgasm. There is no relaxation, on the contrary – there is constant tension, especially in the small pelvis and also in the chest. If there is no natural relaxation once – nothing, but if it is repeated regularly, there is a physiological congestion in the small pelvis and chest, which can lead to oncological diseases. I have been a teacher in several oncology camps, and women who are being treated for breast or other cancers involved in sexual intercourse have admitted that they have had sex problems, sex has not brought joy and pleasure. That's why it's important to make love when you really want to. This is possible if being with the other party creates positive emotions, there is a corresponding mood and situation. Fast sex on the washing machine in the bathroom, while the baby is sleeping, can be okay, but only if it gives a woman pleasure.
Why does a woman give up sex? Maybe she has unconventional desires
Why a woman does not want sex is the next question. It is possible that she has had a traumatic experience in the past, been sexually abused, that her first sexual intercourse was painful, or that her husband did not respect her wishes in a previous relationship. Therefore, when meeting a good man, it is difficult for her to get rid of sexually. She wants a family, a loving relationship, hugs, but when she comes to sex, the brakes come on. The second reason why a woman often refuses to make love is that she is probably not heterosexually oriented. If she does not like men but likes women (or likes partners of both sexes), it must be accepted and confidently realize her intimate desires, not suffer. Stupid if she tries to hide it by forming a heterosexual relationship that will eventually be doomed to break up.
The third reason – changes in the hormonal system, when the amount of sex hormones responsible for sexuality decreases. There are women who have admitted that using the hormonal method of contraception loses the desire for an intimate relationship. It can also be caused by daily worries, financial problems, stress – people are so worried that they cannot afford sex. It is not easy for a child, both wife, and husband, to resume sexual life when a child enters the family. Fatigue often prevails. If reluctance becomes regular, it is a problem that definitely needs to be addressed. A relationship without love is not a relationship, it is just living together. And it is not difficult for a husband or wife to get used to not making love. Just as we get used to a broken arm or leg – we learn not to move it, but when removing the plaster, the muscles of the injured limb have atrophied and have to be moved again. The genitals are similar. If sex is not, the organs and muscles involved in this process, as if asleep, and resume sex is very difficult, it has lost quality.
Sexually dissatisfied people are aggressive, angry and aggressive
How often should you make love? It's different for every couple. If you do not want sex one night, it is normal, but if you have not had sex with a loved one for more than a week or even months and you feel that the man is dissatisfied, you are not satisfied, you argue a lot in everyday situations, then you know – the problem is not what you just spoke, the problem must be found in bed. Sex has been shown to improve the quality of life. A person who regularly loves radiates is good, loving, and fruitful in ideas and in his actions, he enjoys life. Sexually satisfied people stabilize society, wanting to work increases too. Sexually dissatisfied people who lack caress are aggressive, angry and offensive. If that's what your husband becomes, you know – your' no 'in bed has become too common. As I said, it is not the duty of a wife to simply sleep with her husband because, in order for him to get what he wanted, both must want to love. Therefore, first of all, the situation of reluctance must be addressed by speaking. It is important if a man thinks about it and asks you what can be done so that you still want to make love.
I have noticed that there are people who are ashamed even to reveal to their loved ones what they think and what they want. If a woman does not tell her husband what gives her joy and pleasure, then it is likely that the man will act as before, and the woman will not get what she wanted, and the joy of love will also fade. If you want longer foreplay, say so. A man would like to do it, but often does not even know what a woman wants… She is not taught at school. Both partners should tell each other what they want, what they like, what they like. Don't be shy about your fantasies. Share them. They don't have to be implemented right away but talk together about whether and how you can implement them. If you know that you are very tired in the evenings, think about whether you should go to bed for an hour when you come home from work. Thus, you will be relaxed and will be able to tune in to the joys of love.
Talk to your loved one candidly and find out what makes the other happy
It's hard to make love with someone you don't have emotional contact with. This means that you have to spend time with your other half not only in bed but also outside. Go to the cinema, to the theater, go hiking. The best foreplay that ignites is dancing. Attend salsa, tango, or ballroom dance nights together. Dances will teach you how to contact each other, how to touch sensually. Dance can lead to ecstasy, especially for a woman. The foreplay can also start in the morning, when the wife, accompanying her husband to work, gives a farewell kiss or sends a nice text message during the day. Thus, making love becomes a natural and pleasurable part of the relationship, not forced labor or duty that the spouses have to perform. If the couple does not give each other emotions, there is no reason for the two to be together. Any deficit sooner or later is compensated somewhere. Emotions and pleasure will be sought either in a virtual relationship at the computer or in alcohol and gambling. And yet there will be a desire for intimacy. If they are not married, they may be in another woman's or man's bed. So – talk and find out how to give each other pleasure, and making love will be a happy and pleasant moment.