Erectile dysfunction is a problem that affects the lives of many men. Unfortunately, men of all ages complain about impotence, so pharmacists are in a hurry to develop drugs that help fight the problem and enjoy sex. Cialis is a relatively new medicine, so there are fewer data on its effectiveness, but early studies show that it has a particularly good chance of treating erectile dysfunction. Although the principle of action of this medicine is not different from that of Viagra and Levitra, the duration of action is different (up to 36 hours).
Advantages
Works for up to 36 hours, allowing you to enjoy the process without haste;
Different doses are available (5 mg, 10 mg and 20 mg);
Effect after less than 30 minutes;
It is not necessary to plan a special meal, as food interactions are rare (typical of Viagra);
Effective in mild, moderate or severe erectile dysfunction;
Studies show that it is also suitable for people with diabetes.
Flaws
The most common side effects are: headache (11%), hot flushes (4%), stuffy nose or runny nose (4%), indigestion or upset stomach (7%);
Not 100% effective in all cases;
This medicine can only be obtained with a prescription.
Cialis should not be used if:
If you use organic nitrates in any form;
Do not use if you have various heart conditions;
If you are taking medicines called 'alpha-blockers';
If your doctor has advised you to give up sexual activity due to health problems;
If you are allergic to this medicine or any of the other ingredients. (More on restrictions here).
How to use?
Cialis is slightly different from Viagra – if Viagra is to be taken before sexual intercourse, Cialis is taken once a day at a set time, regardless of sexual intercourse. It usually starts with a dose of 2.5 mg, and if that dose does not work, your doctor will prescribe 5 mg. It is important that you take this medicine at about the same time each day, unless your doctor tells you to.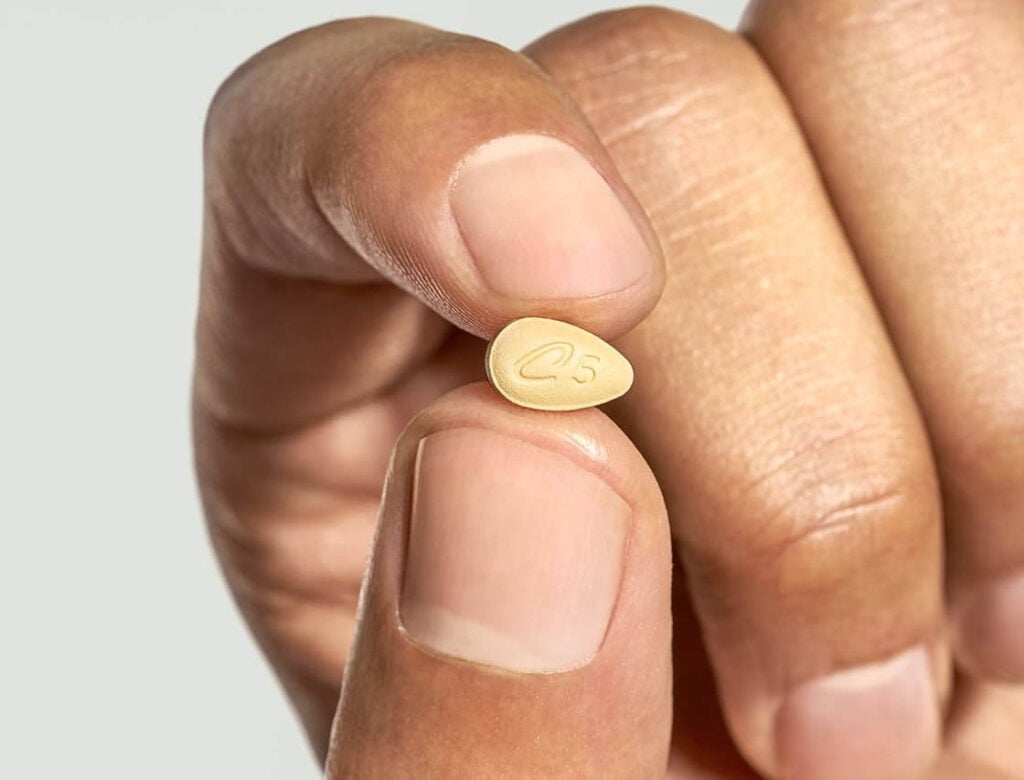 Where to buy?
Cialis is a prescription medicine and can only be obtained with a prescription. Of course, like everything else, these drugs can be purchased illegally online or in person, but the drugs sold there are usually not original, and you risk harming your health by purchasing a non-genuine product.
Can you buy Cialis online?
Unfortunately, you will not be able to buy Cialis online legally in Latvia, but if you suffer from erection problems and want to try supplements, you can buy natural aphrodisiacs for men online. The aphrodisiac supplements in the online sex shop are herbal and therefore have fewer side effects than Cialis. These supplements stimulate a man's lust, increase libido and, of course, help to achieve and maintain a strong erection.
How Much does Cialis Cost?
The price of this medicine in pharmacies can range from 30 to 80 euros. Illegat stuff sold online costs around € 40.